Nokia is a Hot Tax Mess and 2 Hot Stocks to Watch
Sprint (NYSE:S): Softbank Corp and Sprint Nextel informed a U.S. lawmaker they will not integrate equipment from Huawei Technologies into Sprint's network after they merge, the legislator stated. "I expect them to make the same assurances before any approval of the deal" by U.S. agencies reviewing the proposed $20 billion merger for national security implications, Representative Mike Rogers, a Michigan Republican leading the House Intelligence Committee, said to Bloomberg. Softbank and Sprint are trying to meet U.S. concerns regarding the potential electronic spying by China.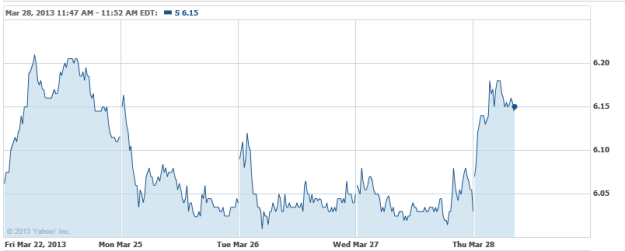 Nokia (NYSE:NOK): The company played down a multi-billion rupee tax demand from India, as it stated that it did not have to pay any part of the demand for now and would keep fighting the claim. Indian tax officials required that Nokia pay 20.8 billion rupees ($383 million) in unpaid taxes, as it increased its claims against foreign companies, but the Delhi High Court issued a stay on the demand. If the tax order is enforced, it would add to pressure on Nokia's finances that are already being strained by falling sales. The company decided to cut its annual dividend payment for the first time in its history to shore up its cash position.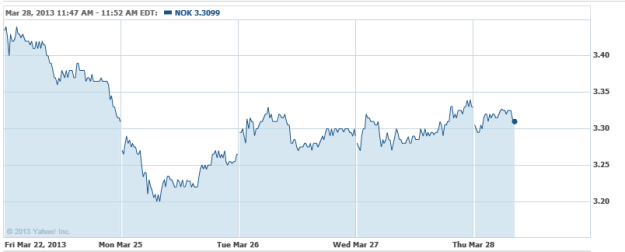 Intel (NASDAQ:INTC): The company hopes that it will be able to make its future "Haswell" chip better than past generations of silicon at gaming and announced tools to make this happen at the Game Developers Conference, CNET stated. The largest chipmaker announced the tools, known as extensions, for software developers that enabling Intel's 4th generation Intel Core, aka Haswell, to process demanding special effects. The first of these extensions is named PixelSync, and it allows programmers to more realistically render smoke, hair, windows, foliage, fences, and other complex geometry and natural phenomena, Intel reports.

Don't Miss: The Secret Formula for Picking NCAA Basketball Tournament Winners.