Nokia Loses Its Home Turf, Michael Kors's Guidance Falls Short, and 3 More Hot Stocks
Nokia (NYSE:NOK): Though Nokia has been on a steady market share slide for a while, its latest loss might sting more than most: Samsung (SSNLF.PK) has gained the upper hand in Nokia's home country of Finland, according to IDC data. Nokia's market share plummeted to 33.6 percent from 48 percent in 2012 and 65 percent in 2010, while share belonging to Samsung increased to 36.1 percent in the first quarter of 2013 from 28 percent a year earlier.

Michael Kors Holdings (NYSE:KORS): Substantial beats on both revenue and earnings have helped lift shares over 2 percent, but further gains are hindered by the retailer's guidance for comparable store sales of 15 to 20 percent during the fiscal year, just below the consensus estimate. Revenue grew an explosive 57 percent year-over-year, while sales growth in Europe outpaced other regions with higher brand awareness — a refreshing change from most companies' experiences across the pond.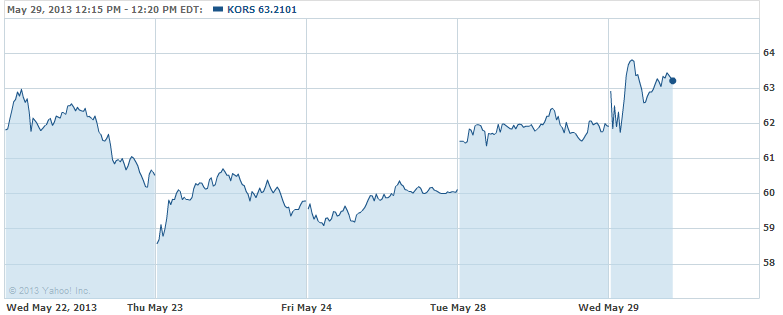 Green Mountain Coffee Roasters (NASDAQ:GMCR): The Waterbury, Vermont-based company is looking to further expand its Keurig single-serve offerings, adding The Coffee Bean & Tea Leaf, the largest privately-held specialty coffee and tea retailer in the U.S., to its K-Cup portfolio. The new products will launch in a variety of channels in the spring of 2014.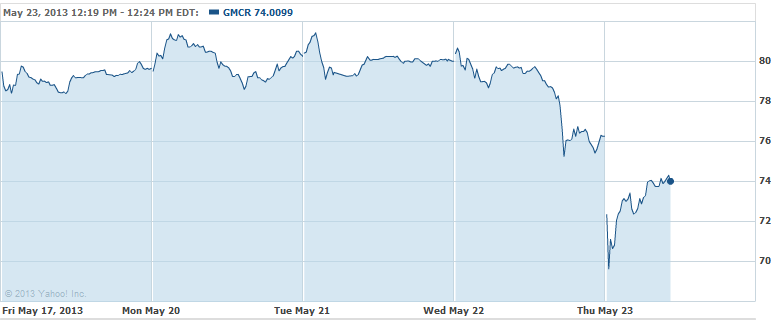 Procter & Gamble (NYSE:PG): The board of directors at P&G is being criticized for having too much star-power, as the board — regarded as one of the strongest — sports the CEOs of six Dow 30 companies. However, the high number of prominent figures poses concerns for corporate governance experts, who warn that too many powerful directors can be a distraction, as their own respective CEO duties take up the majority of their time.

Ducommun Inc. (NYSE:DCO): The company has announced that it will be producing the skins for the fuselages of the Airbus A321, a much-needed break given that Ducommun shares are down 25 percent below their 52-week highs from earlier this month, significant Q1 miss put the stocks in a nosedive.

Don't Miss: Nokia's Home Loss: Foreshadowing the Future?