Nokia Poised to Debut New Smartphone and 2 More Heavily Traded Stocks to Follow
Nokia Corporation (NYSE:NOK): Current price $3.92
Nokia intends to introduce a Windows-based smartphone that will feature a 41-megapixel PureView camera. The launch will showcase the innovative camera phone on the Windows platform that has been anticipated for a while. Media reports say that the device has been coded as EOS and has a polycarbonate body, Xenon flash, OLED display, and 32GB of internal memory. It is thought currently that the smartphone will be a fraction bigger than Nokia's flagship Lumia 925, and is expected to debut on Jul 11th. Nokia says that the new smartphone will let its users to zoom in three times better than its predecessor, losing no resolution.

Groupon (NASDAQ:GRPN): Current price $7.97
On Friday, United States District Judge Richard Sullivan sentenced the mutual fund executive John Mattera to 11 years in prison. Mattera promised investors early shares of Groupon and Facebook, and then spent their money on pricey cars, a waterfront home and jewelry. The former executive was also ordered to forfeit $11.8 million, even though his lawyer said in 2012 that he had just enough money to stay overnight at a hotel. Further, an additional restitution sum will be set within a month. Sullivan ignored a request for leniency, and told Mattera, "You've left a lot of wreckage in your past and you have to be punished for that. These crimes were just so selfish, so callous toward the victims."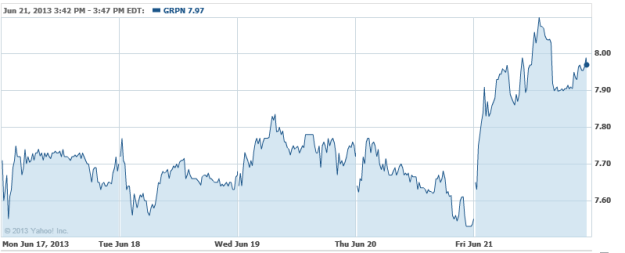 Regions Financial Corporation (NYSE:RF): Current price $9.12
Regions Financial and Huntington Bancshares were among several United States banks to see their credit-rating outlooks upgraded by Standard & Poor's, which pointed to an improving economy and strengthened housing industry for the changes. The outlook for Regions, together with Huntington, Susquehanna Bancshares and BancorpSouth were raised to positive from stable, according to S&P in a Friday statement. Additionally, Zions Bancorporation's outlook was moved up to stable from negative. S&P explained that "Continued gains in housing and domestic private-sector credit will gradually drive a return to a more favorable operating economic environment for banks."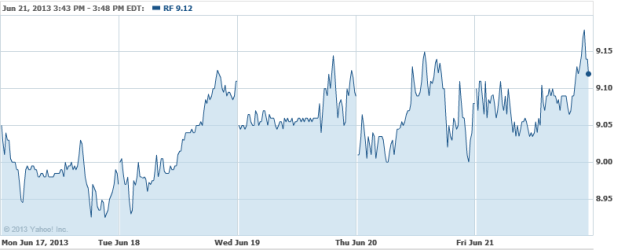 Don't Miss: 5 Reasons Apple Is Owning the E-Book Trial Now.