Nokia Pops on Positive NSN Networks Forecast and 2 Other Hot Stocks to Watch
Nokia Corp. (NYSE:NOK): Current price $7.32
Tuesday morning, Nokia forecast a more lucrative future for its NSN networks equipment and software division, raising expectations for growth (and its shares by 8 percent) in what will become its primary business once its former flagship phones unit is sold off to Microsoft in 2014. Due to the debut of new models and perceived robust demand, especially for the Lumia 520, sales of Lumia smartphones picked up by 19 percent quarter-over-quarter to 8.8 million units, while sales of basic phones jumped by 4 percent from the second quarter to 55.8 million units.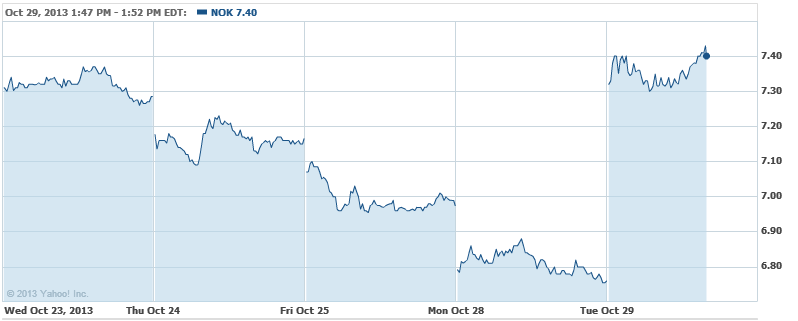 Goodyear Tire & Rubber Co. (NASDAQ:GT): Current price $20.48
Goodyear has reported third quarter earnings of $166 million, or 62 cents per share, while revenue dropped to $5 billion. Shares are down by more than 8 percent Tuesday in heavy volume. Subtracting one-time items, the firm would have earned 68 cents per share, surpassing Wall Street estimates by one cent. In its report, Goodyear said that it foresees impressive sales in both North America and Latin America, but in the face of the positive earnings, investors are centering on the revenue miss.

Arch Coal Inc. (NYSE:ACI): Current price $3.98
Arch Coal forecast that costs for the full year will be lower than its expectations after posting a smaller-than-anticipated quarterly loss while lower expenses helped assuage the effects of weak coal prices. Besides that, the firm expects full-year average cash costs of between $10.40 and $10.60 per ton for its Powder River Basin operations, which is a lower range that the $10.45 to $10.85 it forecast previously. Still, shares are down by about 4.5 percent Tuesday in heavy volume.

Don't Miss: Verizon's Dividends Shine: So Why Are Investors Worried?