Nokia Receives Credit Warning from Moody's and 2 More Heavily Traded Stocks to Follow
Nokia Corp. (NYSE:NOK): Current price $3.94
More unpleasantness for Nokia, following a credit warning from Moody's Rating Agency on Monday after it posted weak financial results for the second quarter. Recently, Nokia purchased Siemens AG's 50 percent interest in its equipment joint venture, Nokia Siemens Network, for almost$2.15 billion, causing uncertainty about its ability to service its debt. Another reason for the warning was the drop in sales, as well as continuous cash drainage. Presently, Nokia holds a Ba3 rating from Moody's, which implies a junk status for the handset manufacturer. According to the rating company, continuous drops in the top line could further endanger Nokia's rating by one gradation, as it fights to maintain its smartphone market share.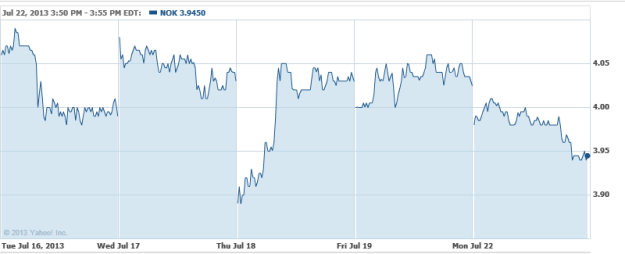 Sirius XM Radio Inc. (NASDAQ:SIRI): Current price $3.68
On Monday, Sirius reported the intro of the SiriusXM's ICONOS series, which are intimate, bilingual gatherings with iconic Latin musicians, entertainers, and ambassadors of Latino culture before a studio audience of SiriusXM subscribers. The first installment of SiriusXM's ICONOS will present the international star Marc Anthony, in an exclusive question and answer session with SiriusXM subscribers. Hosted by SiriusXM's Israel Salazar, SiriusXM's ICONOS with Marc Anthony will also feature a full album playback of Anthony's album Marc Anthony 3.0.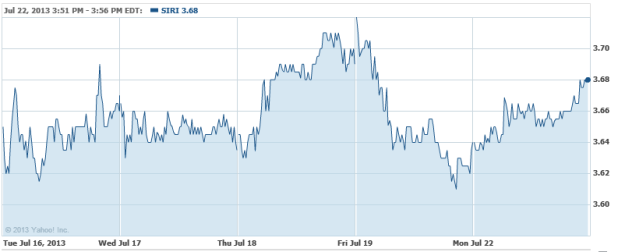 Intel Corp. (NASDAQ:INTC): Current price $22.78
Intel Corp. will debut a low-power version of its powerful server processors, as it hopes to fight off rivals looking to move into the data center with energy efficient chips based on smartphone tech. Already, Intel has introduced a line of its Atom mobile chips, which are created to work as low-power server chips. The Monday announcement could mean that Intel will go forward by offering a low-power version of its Xeon processor, which has built-in features such as connectivity and memory.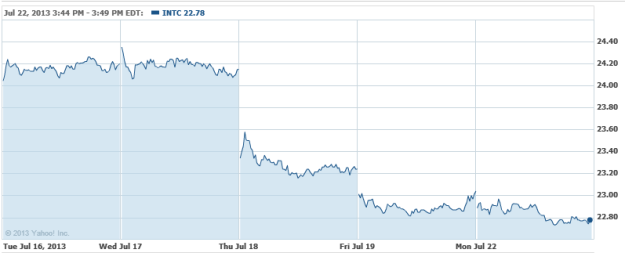 Don't Miss: Will Nokia's Cheap Strategy Find it a Niche?