Nokia Said to Postpone Phablet Launch and 2 Other Hot Stocks to Watch
Nokia Corp. (NYSE:NOK): Current price $6.29
Late Monday, a source to Reuters said that Nokia has put off the launch of a large-screen phablet device, originally set for late September, but the deal to divest its handset unit and license patents to Microsoft might have prompted a change in dates. Inside sources say that Nokia had intended to announce new devices that include a 'phablet,' which is a smartphone with a screen over 5 inches in size, to redo its lineup of Lumia smartphones employing Microsoft's Windows Phone software.
One source reported that the launch event, set to occur in New York late September, has been pushed back by several weeks. However, Reuters could not confirm a new date and a Nokia spokesperson would not comment.

Bank of America Corp. (NYSE:BAC): Current price $
On Tuesday, Bank of America Merrill Lynch announced the launch of Accelerated Payments to Asia, a solution meant to enhance the speed and  efficiency with which banks and corporations make high value United States dollar payments to markets in Asia. The service was created both for world institutions that send commercial payments to beneficiaries in Asia, and for Asia-based institutions whose trade within that region is denominated in U.S. dollars.
Greg Murray, chief of U.S. Dollar Wire and Clearing Products, Global Transaction Services at Bank of America Merrill Lynch, observed that, "In today's environment, companies making U.S. dollar payments to and within Asia can face hurdles that ultimately impinge on their working capital management. These hurdles center on the time zone differences between the Asian markets and the U.S. With Accelerated Payments to Asia, we have eliminated those issues, providing banks and their customers a much faster settlement process that also offers improved visibility and control over their cash."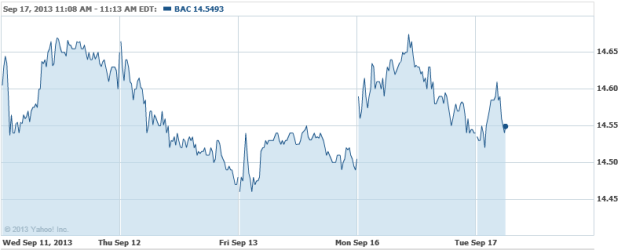 Aeropostale Inc. (NYSE:ARO): Current price $10.10
Shares of the specialty apparel retailer Aeropostale are up more than 17 percent in heavy trading Tuesday, after the private equity firm Sycamore Partners said that it had acquired a position in the company. The private equity firm that specializes in consumer and retail investments, revealed earlier Tuesday that it now holds a 7.96-percent stake in Aeropostale. Further, Sycamore said it sees the retailer's stock as "an attractive investment," and that it might communicate with the company's management and its board.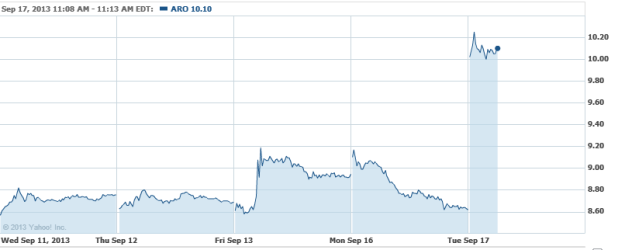 Don't Miss: Does Apple's iPhone 5S Hold iWatch Clues?