Nokia to Feature PureView and 3 Morning Hot Stocks Changing Hands Today
Salesforce.com (NYSE:CRM): Current Price $172.35
Salesforce.com (NYSE:CRM) has reportedly acquired French start-up EntropySoft, a company that offers a technology used by software vendors and large companies for integration of their content with content management tools and cloud storage. Financial details of the transaction were not available and salesforce.com will not be making a formal announcement.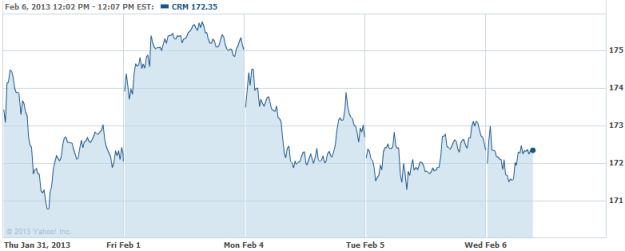 Citigroup (NYSE:C): Current Price $42.82
A new alternative asset management firm called Napier Park Global Capital is to be carved out from Citigroup (NYSE:C), and the separation is likely to be completed during the first quarter of 2013. Thereafter, it would be majority-owned by its employees and feature a diversified product mix such as hedge funds, CLOs, private investing and bespoke client solutions. At inception, the spin-off entity would have about $6.8 billion of assets under management.
Are these stocks a buy or sell? Let us help you decide. Check out our Stock Picker Newsletter now.

Sprint Nextel Corp (NYSE:S): Current Price $5.72
Japanese telecom company Softbank Corp is to issue bonds worth $3.2 billion to help pay for its acquisition of a $20 billion stake in Sprint Nextel Corp (NYSE:S). The four-year bonds, to be offered to Japanese investors from February 25 to March 11, will carry a coupon rate between 1.25%-1.85%. Following the Sprint acquisition, Softbank's credit ratings have been put under review for a possible downgrade by rating agencies Standard and Poor's and Moody's Investors Service.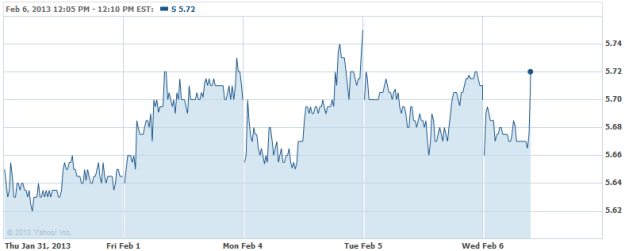 Nokia (NYSE:NOK): Current Price $4.04
The Guardian claims Nokia (NYSE:NOK) will soon feature the revolutionary 41-megapixel PureView sensor in its Windows phone-based, Lumia handsets. Previously available on Nokia's Symbian-based 808 handset, the technology drew rave reviews for the quality of its images, particularly in low light. The Lumia handset featuring PureView will be called the EOS, and perhaps launch around summer in the US.


Don't Miss: Which Company is Right? H-P or Dell?