Nokia to Release 'Something New' Wednesday and 2 More Heavily Traded Stocks to Follow
Nokia Corporation (NYSE:NOK): Current price $
John Paczkowsky at AllThingsD reports that in a blog post on Monday, Nokia said that it will announce "something new" on Wednesday at 7: a.m. Greenwich Mean Time. The corporation offered few details otherwise, only a cropped photo of what Paczkowsky said appears to be a QWERTY handset, and a mention that the announcement will be followed by a question-and-answer with an executive from Nokia's Mobile Phones division.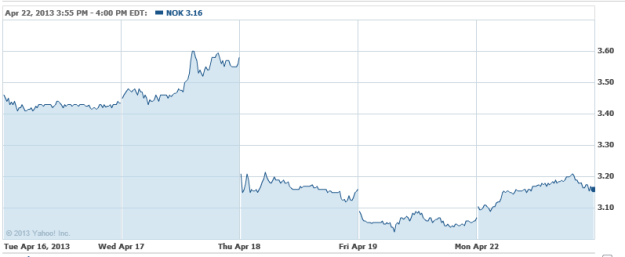 General Electric Company (NYSE:GE): Current price $
GE engineers and industrial designers have created a universally designed frontload washer and dryer that is for every type of body. The General Electric RightHeightDesign frontload washer and dryer employ the industry's biggest openings and the first Built-in Riser to lessen strenuous bends and long reaches. Marketing manager for the GE Clothes Care team Paul Riley said that "approximately 59 percent of consumers purchase a washer based on its opening and how easy it is to access." Manufacturers do recommend purchasing pedestals to elevate the height of their washers and dryers, but some 60 percent of consumers pass up the added expense and consequently spend their time in the laundry room bent over, loading and unloading clothes.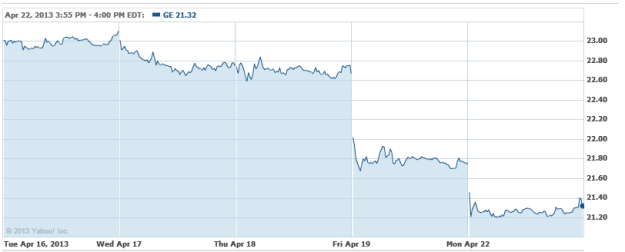 Microsoft Corporation (NASDAQ:MSFT): Current price $
A report by CNBC that the activist hedge fund ValueAct has bought a $2 billion ownership stake in the corporation, sent shares to $31 in late afternoon. The new price put the stock at its highest level in a minimum of six months. It also marked the second straight session of gains since Microsoft reported better-than-anticipated results for its third fiscal quarter on Thursday.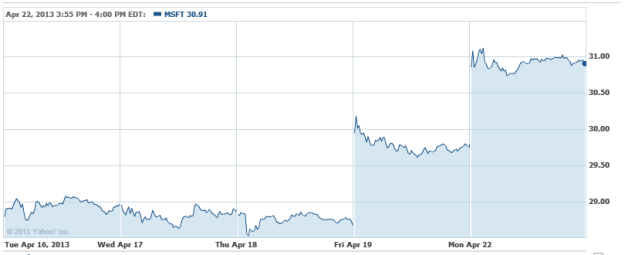 Don't Miss: Apple's iPhone Camera May Soon Get Even Better.