Nokia To Unveil New Asha Phones and 2 Other Hot Stocks To Watch
Nokia Corporation (NYSE:NOK): Current price $3.58
On Tuesday, Chief Executive Stephen Elop said that his company will introduce new models in its Asha range of mid-tier phones, following first quarter results that indicated a sharp drop in sales of mobile phones, as management concentrated on pushing sales of Lumia smartphones. Elop commented to investors at an annual general meeting, "We are continuing to renew our portfolio, which includes plans to announce innovation and new products in the Asha line in the days immediately ahead."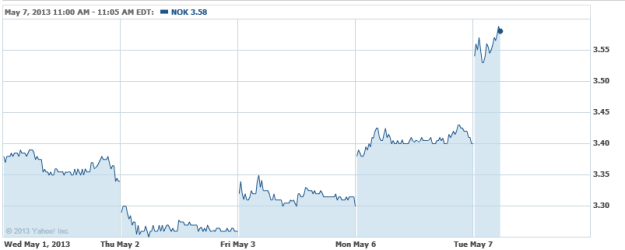 Bank of America Corporation (NYSE:BAC): Current price $12.95
BofA and Vital Voices have opened a mentoring forum in Singapore that includes a number of influential women from the public and private sectors committed to reinforcing women's economic empowerment throughout developing nations in Southeast Asia. The Global Ambassadors Program, which is a Vital Voices and Bank of America partnership, mobilizes accomplished professionals as mentors for emerging women leaders in developing countries, and recruits leaders from the private and public sectors to share and discuss the skills and resources required to help women attain their full economic potential.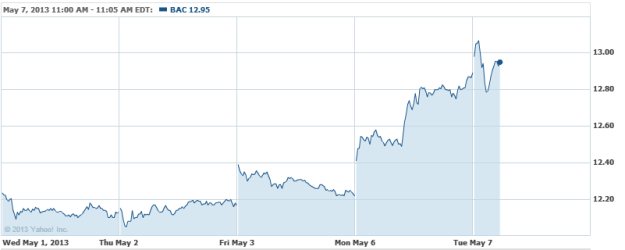 MBIA (NYSE:MBI): Current price $14.62
Since Bank of America committed to a legal resolution that injects $1.6 billion of cash into the bond insurer, MBIA is not now thought by credit derivatives traders to be in distress. Credit-default swaps linked with MBIA, which in February caused "substantial doubt" regarding the ability of one of its main divisions to continue, fell by the most ever, after the settlement was announced on Monday. The improvement was sufficient for traders to stop quoting the upfront cost of protection on the parent firm, a distinction meaning that traders consider default a less imminent threat.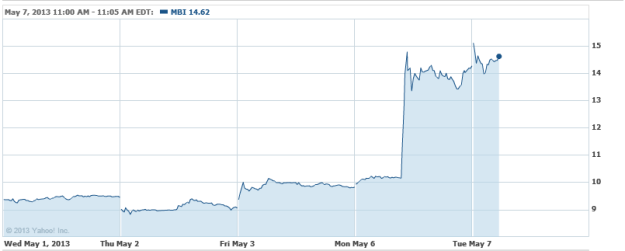 Don't Miss: Apple's iOS Easily Trumps Android on This Metric.