Nokia Worries Return and 2 Other Hot Stocks to Watch
Nokia Corporation (NYSE:NOK): Current price $3.19
Worries over Nokia's outlook were restarted by a marked fall in the sales figures of the firm's basic lineup of phones in the first quarter, outweighing an impressive performance in the lumia smartphones. Shares plummeted to new year lows, mounting added pressure onChief Executive Stephen Elop, who was hired in 2010 to turn the mobile phone maker around after it dropped behind competitors Samsung and Apple in the smartphone marathon. Elop then decidedto switch to Microsoft's unproven Windows Phone software in early 2011 and promised that the transition would take two years, which is now past, with analysts proclaiming that he was running out of time.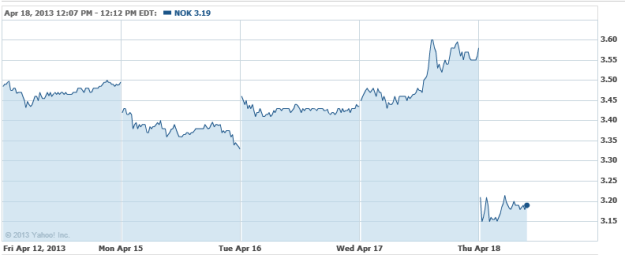 Sprint Nextel Corporation (NYSE:S): Current price $7.13
On Thursday, Sprint reported the availability of its all-new4-gigabyte LTE networkto customers in 21 additional markets, among which include Los Angeles, Contra Costa County, Charlotte, Norfolk, and Memphis. With the Sprint 4G LTE network, customers cab experience faster speeds for uploading photos, surfing the Web, and streaming videos. Through May 9, customers transferring their number to Sprint from another carrier may save as much as $100 on any smartphone along with a new two-year service agreement and qualifying plan.

Morgan Stanley (NYSE:MS): Current price $20.60
Morgan Stanley'sweakness in its fixed-income department is still exhibited in its first-quarter earnings, implying that not a whole lot has been done to remedy the situation.Revenues generated from trading bonds, commodities, and currencies plummeted by 42 percent to $1.5 billion for the first quarter, year-over-year from $2.6 billion in 2012.Equities sales and trading for institutional clients did not lent no relief, with revenue falling 20 percent.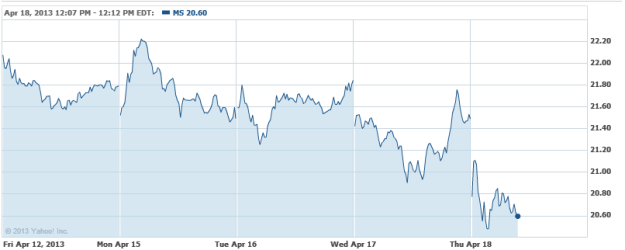 Don't Miss: Is the Era of Nokia Over For Good?