Nokia's Lumia 929 Described in Leaked Video and 2 Other Hot Stocks to Watch
Nokia Corp. (NYSE:NOK): Current price $6.83
According to The Verge, Nokia is getting ready to release its second aluminum Windows Phone, the Lumia 929, designed to become a replacement for the Lumia 928 on Verizon. A new leaked video shows the device in black, equipped with a 5-inch 1080p display and supported for the new three columns of Live Tiles. The Verge reports that the product will debut in an aluminum frame with at least black and silver variants available at first. Beyond that, the Lumia 929 features a 20-megapixel PureView camera reported to be almost identical to the one in Nokia's 6-inch Lumia 1520 device.

Sirius XM Radio Inc. (NASDAQ:SIRI): Current price $3.73
On Monday, International Launch Services, which provides mission integration and launch services to the world commercial satellite industry, successfully transported the Sirius FM-6 satellite, built by SSL, into orbit on an ILS Proton for Sirius XM Radio. Sirius FM-6 I equipped with an X-band uplink transponder and an S-band downlink transponder to deliver digital audio radio service. With around  20 kilowatts end-of-life power and an anticipated service life of 15 years, the Sirius FM-6 satellite is one of the most powerful satellites built. The final orbital location for the satellite will be 116.15 degrees west longitude.

Bank of America Corp. (NYSE:BAC): Current price $14.30
Kuwait Investment Authority has named a chief for its newly-formed infrastructure division, seeking to reinforce its investments in the sector, said two inside sources. Hakim Drissi-Kaitouni, prior to this a vice president at Bank of America Merrill Lynch in London, will become managing director of Wren House Infrastructure Management, a fully-owned arm of KIA, according to the persons, who also said that the Wren House unit, which was established in April by the wealth fund and housed under its London-based Kuwait Investment Office, also recruited another BofA Merrill banker Marc Keller, to aid Drissi-Kaitouni in identifying investments in the sector.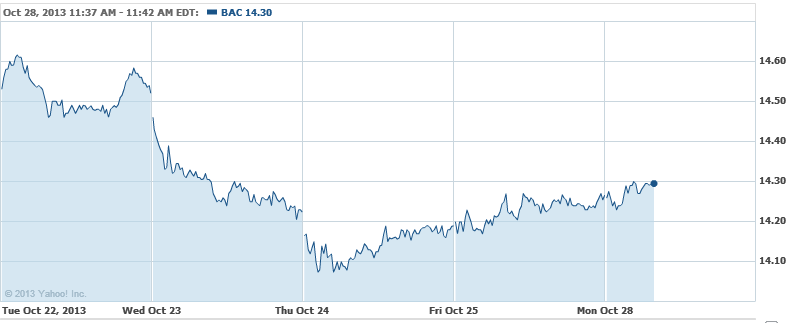 Investing Insights: Is Amazon a Buy At All Time Highs?