Nokia's Patent License Agreement With Samsung Extended and 2 Other Hot Stocks to Watch
Nokia Corp. (NYSE:NOK): Current price $7.74
On Monday, Nokia announced that Samsung Electronics has extended its phone patent license accord between the firms for five years. Through the terms, Nokia will receive added compensation from Samsung, commencing at the start of nest year. The former intends to retain its patent portfolio even though it is selling its phone business to Microsoft Corp.
Sirius XM Radio Inc. (NASDAQ:SIRI): Current price $3.79
Sirius XM said Monday that it has finalized its previously reported purchase of the connected vehicle services unit of Agero Inc. With the transaction completed, the buyer will provide connected vehicle services to a number of major automotive manufacturers, including Hyundai, Acura, BMW, Honda, Infiniti, Lexus, Nissan, and Toyota. Included in SiriusXM's offerings will be safety, security, and convenience services for drivers and end-to-end, turnkey solutions for automakers. Also, the business division will change its name to Sirius XM Connected Vehicle Services Inc.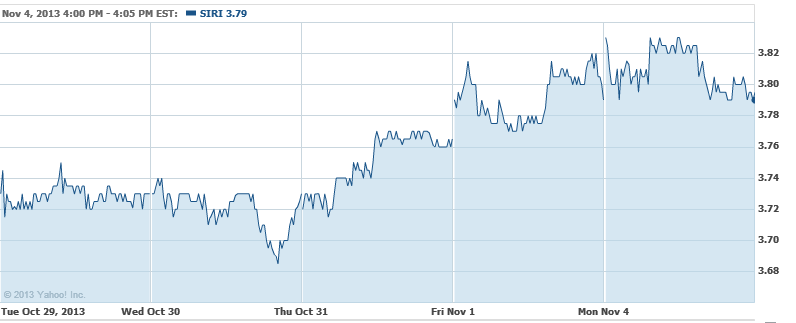 Groupon Inc. (NASDAQ:GRPN): Current price $10.57
Deutsche Bank is suggesting that the 20 percent pullback in shares of Groupon since late September be viewed as a buying opportunity. Deutsche anticipates that Groupon's results will be inside the guidance range, and perceives the firm as one of the best long-term plays in mobile and local. The firm maintains a Buy on the shares with a price target of $17.

Don't Miss: Plot Twist: BlackBerry Abandons Sales Bid and CEO.