Northeast Utilities Systems Earnings: Net Income Rises Three Quarters in a Row
S&P 500 (NYSE:SPY) component Northeast Utilities Systems (NYSE:NU) reported its results for the first quarter. Northeast Utilities is a public utility holding company that delivers energy through its subsidiaries.
Don't Miss: Wall St. Cheat Sheet's newest Feature Trades of the Month!
Northeast Utilities Systems Earnings Cheat Sheet for the First Quarter
Results: Net income for Northeast Utilities Systems rose to $114.2 million (64 cents/share) vs. $86.2 million (49 cents/share) in the same quarter a year earlier. A rise of 32.5% from the year earlier quarter.
Quoting Management: Charles W. Shivery, NU chairman, president, and chief executive officer, attributed the improved results to much colder weather in the first quarter of 2011, compared with the first quarter of 2010, a continued focus on cost control, progress building the infrastructure needed to serve New England's energy customers, and the effect of electric distribution rate decisions received over the past 12 months.
Key Stats:
The company has now seen net income rise in three-straight quarters. In the fourth quarter of the last fiscal year, net income rose 43.2% and in the third quarter of the last fiscal year, the figure rose 55.2%.
Competitors to Watch: NSTAR (NYSE:NST), UIL Holdings Corporation (NYSE:UIL), Unitil Corporation (NYSE:UTL), Consolidated Edison, Inc. (NYSE:ED), Maine & Maritimes Corp. (MAM), Central Vermont Public Service Corp (NYSE:CV), Pepco Holdings, Inc. (NYSE:POM), NextEra Energy, Inc. (NYSE:NEE), Alliant Energy Corporation (NYSE:LNT), and TECO Energy, Inc. (NYSE:TE)
Stock Performance: Shares of NU are up 0.11%.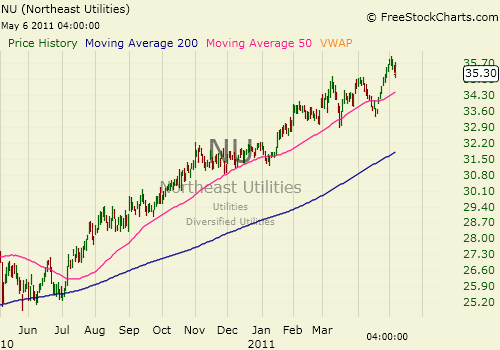 Don't Miss Wall St. Cheat Sheet's newest Feature Trades of the Month!