Northern Trust Corporation Earnings: Not What Investors Expected
S&P 500 (NYSE:SPY) component Northern Trust Corporation (NASDAQ:NTRS) reported a lower net income in the first quarter compared with a year earlier, falling below analysts' estimates. Northern Trust Corporation is a financial holding company that provides investment management, asset and fund administration and banking solutions for corporations, institutions and affluent individuals.
Don't Miss: Wall St. Cheat Sheet's newest Feature Trades of the Month>>
Northern Earnings Cheat Sheet for the First Quarter
Results: Net income for the Midwest regional bank fell to $151 million (61 cents/share) vs. $157.2 million (64 cents/share) a year earlier. A decline of 3.9% from the year earlier quarter.
Revenue: Fell 8.5% to $897.9 million YoY.
Actual vs. Wall St. Expectations: NTRS fell short of the mean analyst estimate of 65 cents/share. Estimates ranged from 55 cents per share to 84 cents per share.
Quoting Management: "Northern Trust's results benefited from improved equity markets and strong new business, offset by the ongoing impact of persistently low interest rates," said Frederick H. Waddell, Chairman and Chief Executive Officer. "In this environment, we continue to invest in our infrastructure and people to support our clients. For example, we recently announced an agreement to acquire Bank of Ireland Securities Services, the fund administration, investment operations outsourcing and custody business of the Bank of Ireland Group, which will further strengthen our capabilities to serve our clients. These efforts have been rewarded in the marketplace, with assets under custody growing 17% from a year ago to a record $4.4 trillion. Moreover, our balance sheet remains exceptionally strong, with a tier one capital ratio of 13.5%."
Key Stats:
Net income has dropped 16.4% year over year on average across the last five quarters. Performance was hurt by a 36.5% decline in the second quarter of the last fiscal year from the year earlier quarter.
Competitors to Watch: Citigroup Inc. (NYSE:C), Bank of America (NYSE:BAC), JPMorgan Chase (NYSE:JPM), The Bank of New York Mellon Corporation (NYSE:BK), PNC (NYSE:PNC), Zions Bancorp (NASDAQ:ZION), Financials (NYSE:XLF) and Wells Fargo & Company (NYSE:WFC).
Today's Performance: Shares of NTRS are trading at $50.76, down 1.25% from the previous closing price of $51.40.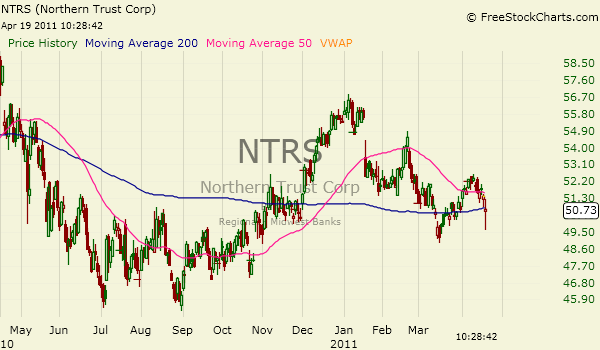 Don't Miss Wall St. Cheat Sheet's newest Feature Trades of the Month!