Northrop Grumman Earnings: Shareholders Take Profits
S&P 500 (NYSE:SPY) component Northrop Grumman Corporation (NYSE:NOC) reported net income above Wall Street's expectations for the first quarter. Northrop Grumman Corporation offers its global customers innovative products, services, and solutions in information and services, aerospace, electronics and shipbuilding.
Don't Miss: Wall St. Cheat Sheet's newest Feature Trades of the Month!
Northrop Grumman Earnings Cheat Sheet for the First Quarter
Results: Net income for the conglomerates company rose to $530 million ($1.79/share) vs. $469 million ($1.53/share) in the same quarter a year earlier. A rise of 13% from the year earlier quarter.
Revenue: Sales declined to $6.73 billion from $6.91 billion YoY.
Actual vs. Wall St. Expectations: NOC beat the mean analyst estimate of $1.56/share. Estimates ranged from $1.50 per share to $1.60 per share.
Quoting Management: "This was a very productive quarter. We completed the shipbuilding spin-off and our newly aligned portfolio generated solid financial results. We now expect 2011 earnings of $6.50 to $6.70 per share. We also increased the dividend and raised our outstanding share repurchase authorization to $4 billion, which includes committing the $1.4 billion contribution we received in the shipbuilding spin-off to share repurchases," said Wes Bush, chief executive officer and president.
Key Stats:
Net income has increased 21.3% year over year on average across the last five quarters. The biggest gain came in the second quarter of the last fiscal year, when income climbed 80.5% from the year earlier quarter.
Competitors to Watch: Lockheed Martin Corp. (NYSE:LMT), General Dynamics Corp. (NYSE:GD), The Boeing Company (NYSE:BA), Raytheon Company (NYSE:RTN), Kratos Defense & Security Solutions, Inc (NASDAQ:KTOS), L-3 Communications Hldgs., Inc. (NYSE:LLL), ITT Corporation (NYSE:ITT), Cubic Corporation (NYSE:CUB), Rockwell Collins, Inc. (NYSE:COL), and BAE Systems PLC (BAESY).
Today's Performance: Shares of NOC are trading at $62.49 as of April 27, 2011 at 11:44 AM ET, unchanged from the previous close.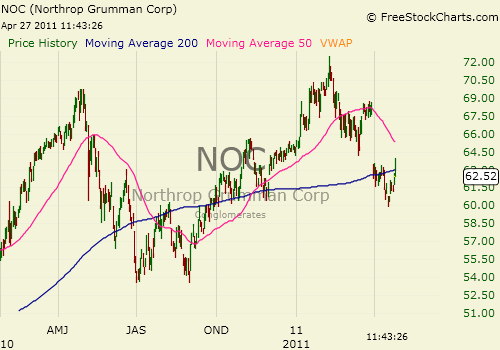 Don't Miss Wall St. Cheat Sheet's newest Feature Trades of the Month!