Northrup Grumman Wins Navy Contract and 2 Stocks Riding 52-Week Highs
Ventas (NYSE:VTR): Closing price $74.74
Shares are still riding the firm reporting that Fortune magazine named it as one of the World's Most Admired Real Estate Companies in 2013. Ventas Chairman and Chief Executive Debra A. Cafaro remarked that "We are thrilled and honored to receive this recognition by our peers in the corporate community," said. "For more than a dozen years, we have focused on sustaining excellence in all aspects of our business and delivering consistent, superior total shareholder return. Our successful performance results from our cohesive, collaborative teamwork and our commitment to building value." Shares closed up 0.12 percent on Friday at $74.74, and have been traded in a 52-week range of $53.94 to $74.80.
McDonald's Corporation (NYSE:MCD): Closing price $101.42
McDonald's shares hit a 52-week high again on Friday, just as they did on Thursday. Never mind that it was a day after  fast-food workers in New York City protested for higher wages. The strike impacted Yum! Brands shares more seriously than it did those of McDonald's, though they fell as well by 0.2 percent to 100.46 during the day. While Yum has been broadening its offerings, McDonald's is trimming its menu to make space for different items. In March, the iconic hamburger chain said it would discontinue its Fruit & Walnut Salad and Chicken Selects from menus in the United States. Back in the 1950s a typical McDonald's meal was a hamburger, fries and a milkshake or soda — fruit and walnut salad?? Shares closed  up 0.79 percent at $101.42, having been traded in a 52-week range between $83.31 and $101.47.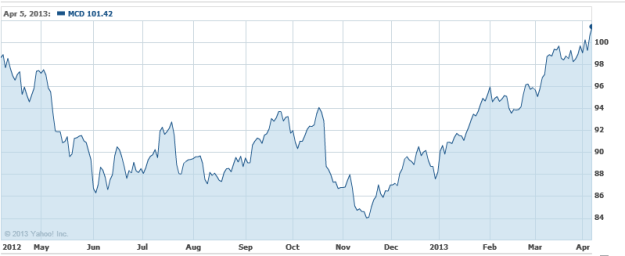 Northrop Grumman Corporation (NYSE:NOC): Closing price $71.56
The United States Navy has awarded Northrop Grumman an $80 million contract through which to upgrade and enhance the Next Generation Command and Control Processor. The NGC2P system is a tactical data link communication processor that supplies critical real-time information in regards to friendly and enemy activity during combat operations. Shares closed up 0.49 percent on Friday at $71.56, and have been traded between $56.59 and $71.77 in a 52-week range.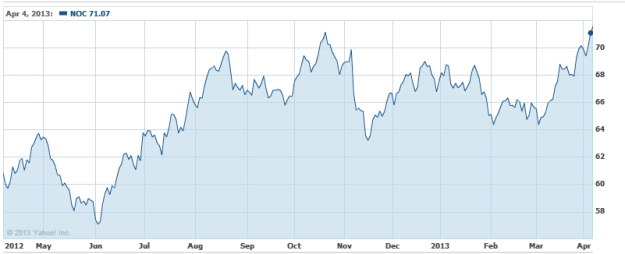 Don't Miss: Will Casual-Dining Still Thrive in America?