Northwest Bancshares Earnings: Deposit Growth was Robust
Northwest Bancshares, Inc. (NASDAQ:NWBI) reported net income above Wall Street's expectations for the first quarter. Northwest Bancshares Inc MD is a federal savings and loan holding company, which through its subsidiary Northwest Savings Bank offers traditional deposit and loan products.
Don't Miss: Wall St. Cheat Sheet's newest Feature Trades of the Month!
Northwest Bancshares Earnings Cheat Sheet for the First Quarter
Results: Net income for the savings and loan company rose to $17.3 million (16 cents/share) vs. $13.2 million (12 cents/share) in the same quarter a year earlier. A rise of 31.2% from the year earlier quarter.
Revenue: Noninterest income was $14.3 million.
Actual vs. Wall St. Expectations: NWBI beat the mean analyst estimate of 15 cents/share. Estimates ranged from 14 cents per share to 16 cents per share.
Quoting Management: William J. Wagner, President and CEO, noted, "We are pleased to report record quarterly financial results that are positive in almost all respects. Our net interest margin, at 3.66%, is substantially higher than a year ago and slightly higher than the previous quarter. Income earned from fees, commission and services remained consistent despite the legislative and regulatory issues our industry is facing. Expenses have been tightly controlled and our provision for loan losses is the lowest it has been for eight quarters. Deposit growth was robust, especially the growth in checking and savings deposits. The only negative trend that occurred was a $47.4 million, or 0.9%, decrease in our loan portfolio as new loan demand was relatively weak while the competition for loan growth has become much more aggressive."
Key Stats:
The company has now seen net income rise in three-straight quarters.
Competitors to Watch: New York Community Bancorp, Inc. (NYSE:NYB), Parkvale Financial Corp. (NASDAQ:PVSA), Prudential Bancorp, Inc. of PA (NASDAQ:PBIP), WVS Financial Corp. (NASDAQ:WVFC), Malvern Federal Bancorp, Inc. (NASDAQ:MLVF), Oneida Financial Corp. (NASDAQ:ONFC), Hudson City Bancorp, Inc. (NASDAQ:HCBK), Home City Financial Corp. (HCFL), Berkshire Hills Bancorp, Inc. (NASDAQ:BHLB), and FedFirst Financial Corp. (NASDAQ:FFCO).
Today's Performance: Shares of NWBI are trading at $12.39 as of April 25, 2011 at 1:00 PM ET, up 0.4% from the previous closing price of $12.34.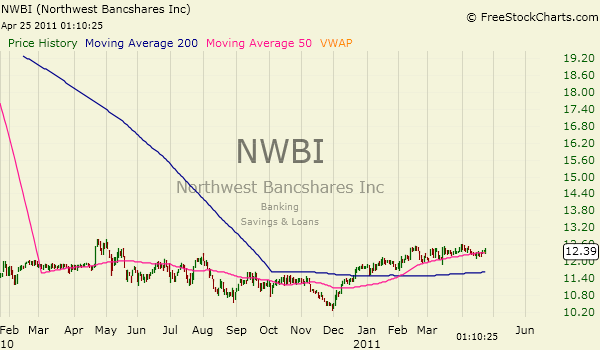 Don't Miss Wall St. Cheat Sheet's newest Feature Trades of the Month!