Not Every Blue Chip Loves Tuesdays
The most hated stock rally in history continues to defy gravity, as Mr. Market is more thankful than ever that Tuesday comes around every single week.
The Dow Jones Industrial Average reached another record high yesterday, closing at 15,409. The index has now posted gains for 20 consecutive Tuesdays. This shatters the previous record of 15 straight Tuesdays set in 1927. In fact, the Dow has rallied about 1,900 points since mid-January, with 83 percent of those points coming from Tuesdays alone.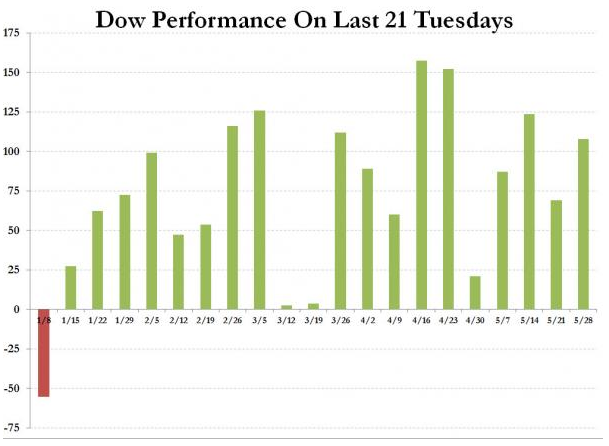 As the chart from Zero Hedge shows above, the Dow saw weakness in the middle of March, but still managed to post gains. On average, the index has gained 80 points per Tuesday since January 25.
While some investors may be waiting for a pullback, the Dow has not logged a three-day slump all year. Furthermore, the S&P 500 has gone all year without a typical 5 percent dip.
Even though the Dow has climbed higher for the past twenty Tuesdays, there is not one blue chip in the index with the same record. Technology firm 3M Company (NYSE:MMM) currently has the best streak with 18 consecutive Tuesday gains, according to Bespoke Investment Group. Other well-known companies such as JPMorgan Chase (NYSE:JPM), Johnson & Johnson (NYSE:JNJ), and Chevron (NYSE:CVX) are close behind with 17 straight positive Tuesdays.
In terms of average percent change, Bank of America (NYSE:BAC) leads the blue chips with an average gain of 1.03 percent on Tuesdays, while Merck (NYSE:MRK) comes in second place with 0.91 percent. With the housing recovery story still intact, shares of Home Depot (NYSE:HD) crack the top ten and have increased an average of 0.63 percent on Tuesdays this year.
Not every blue chip has been a stand-out performer on Tuesdays. Shares of Alcoa (NYSE:AA) have an average gain of only 0.12 percent for the day this year, the lowest among all Dow components. The aluminum giant also has the shortest streak at 8 consecutive Tuesdays. Cisco (NASDAQ:CSCO) and Caterpillar (NYSE:CAT) are also at the bottom of the list with an average Tuesday gain of 0.31 percent and 0.34 percent, respectively.
Don't Miss: How Many Homes Are Still Underwater?
Follow Eric on Twitter (@Mr_Eric_WSCS)