Novel Therapies and Defeating Multi-Drug Resistance Key in Success of Cancer Drug Companies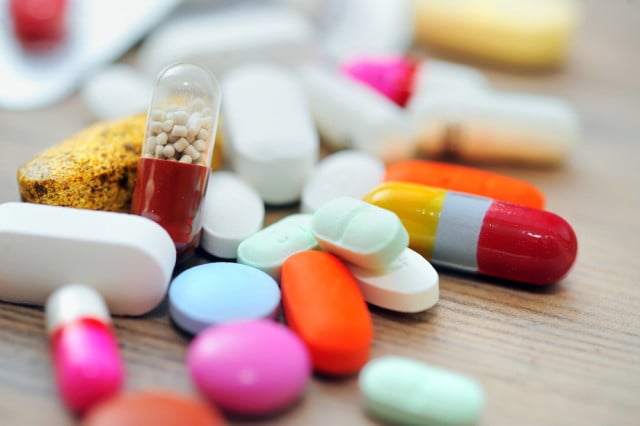 Developing innovative new therapies to treat cancer has always been one of the great challenges of biotechnology companies, but one that comes with a tremendous payoff if successful. Preventative medicines or ones that delay the onset of multi-drug resistance are the focus of some companies and offer valuable upside to patients and stakeholders alike.
Shares of Roche (RHHBY:PK) are consolidating some from record highs hit on October 1 after the Swiss cancer drugmaking giant printed $67.93 on that day. As part of a multi-year uptrend, the stock price has risen about 35 percent in 2013 alone. Roche even bucked the recent downtrend of the broad markets after saying that a trial by subsidiary Genentech extended the life of breast cancer patients without the disease getting worse.
Genentechs Kadcyla (ado-trastuzumab emtansine), which is indicated for patients with advanced HER2 (Human Epidermal Growth Factor Receptor 2)-positive breast cancer, hit a co-primary endpoint by demonstrating a 47-percent reduction in risk of cancer progression or death. In the phase 3 trial, called TH3RESA, patients who had their cancer progress despite prior treatment with at least two other HER2-positive drugs were treated with Kadcyla or their physicians choice of anti-cancer drugs. In 80 percent of the cases, that other drug was monoclonal antibody Herceptin (trastuzumab), a blockbuster HER2-positive targeting medicine of Roche that has been FDA-approved since 1998.
Herceptin is Roche's second biggest product, generating $6.34 billion in 2012 revenue. The original patent for Herceptin was set to expire next year, but patents on multiple variations and combination therapies of the drug are in place, extending Roches cornering of the HER2-positive breast cancer market. About one in four breast cancer patients are HER2-positive. If Roche is going to feel any slight pressure on Herceptin sales, it could be in India in coming years after it gave up its fight for patent protection in the country two months ago and has lowered the price of the drug as biosimilar competition is coming down the pipeline.
Kadycla was approved in February by the FDA for treatment of HER2-positive metastatic breast cancer patients who had previously been treated with a combination of Herceptin and taxane chemotherapy. Ever growing its trastuzumab franchise, when patients have developed a resistance to other HER2-positive targeting drugs, including Herceptin, Roche is looking to capture that market with Kadycla.
On the proactive drug front, Roches Perjeta became the first therapeutic FDA approved to treat breast cancer before surgery. The accelerated approval is indicated for people with high-risk, HER2-positive early stage breast cancer. The decision came after phase 2 data from the 417-patient NEOSPHERE trial showed that 39.3-percent of people treated with a regimen of Perjeta, Herceptin, and docetaxel chemotherapy demonstrated a pathological complete response, meaning that there was no evidence of tumor tissue detectable at the time of surgery.
Once again bringing Herceptin into the mix, Roche is doing a formidable job at tackling multi-drug resistance and preventative therapies to maintain its position as the biggest cancer drug company in the world going forward. Specific to the latest Perjeta conditional approval, investors will be looking ahead to 2016 for results on a large-scale phase 3 trial to validate and expand upon the phase 2 data.
While Roche sits atop the oncology world, several smaller companies are deserved of consideration as the make strides to capture part of the extremely lucrative market. In the small-cap arena, Verastem Inc. (NASDAQ:VSTM) is worthy of due diligence as it is bringing a new approach to the table as a developer of small molecules that inhibit cancer stem cell pathways. The company's next-generation chemotherapy products have the potential to bridge large gaps left in cancer by drug resistance, with five clinical trials ongoing and another planned.
Verastems lead drug candidates are directed at focal adhesion kinase expression, an important market in tumorigenesis. FAK expression is greater in many tumors, particularly cancers that have strong metastatic capabilities. Verastems FAK inhibitors target cancer stem cells, which can slow disease progression and development of new tumors. VS-6063 (defactinib) is the most advanced compound in the companys pipeline, recently commencing a Phase 2 study with patients suffering from mesothelioma, a highly aggressive form of lung cancer. Verastem is developing defactinib for mesothelioma under and Orphan Drug designation from the FDA. Although technically considered a Phase 2, company president and CEO Robert Forrester says that the scope and design of the trial are indicative of a Phase 3 study and if the drug is effective, they intend to file a New Drug Application with the FDA.
If successful, VS-6063 would compete with Eli Lilly's (NYSE:LLY) Alimta, the only drug approved for mesothelioma. Alimta has been approved for more than a decade, yet about 60,000 people globally die from mesothelioma annually, effectively meaning that the resistance builds up against the drug. With that in mind, investor will be alert for interim analysis data from the potentially pivotal trial in about 18 months.
Not far behind in development, a Phase 2 trial was initiated late in September of defactinib as a treatment of KRAS-mutated non-small cell lung cancer patients. In 30 percent of the NSCLC cases, the gene KRAS is mutated with no approved drugs effectively targeting this pathway. Notably, AztraZeneca (NYSE:AZN) reported two years ago failed trials of selumetinib, a compound licensed from Array BioPharma (NASDAQ:ARRY), in lung cancer patients with KRAS mutations.
Verastem is also conducting a Phase 1/1b trial of VS-6063 in combination with mitotic inhibitor paclitaxel in ovarian cancer patients. Ovarian cancer is known to rapidly develop resistance to standard of care platinum-based chemotherapy with no other options beyond that besides paclitaxel, which is not as effective as the platinum-based treatments. Paclitaxel is also indicated for lung, ovarian, breast and head and neck cancer, so the trials in ovarian cancer will provide important data for Verastem to potentially pursue these cancer lines as well in the future.
An additional Phase 1 trial of defactinib for solid tumors has recently been initiated in Japan. Only 12 18 patients will be enrolled in the study, but it puts the companys foot in the door in a country making serious efforts to grow into a global pharmaceutical player. The final clinical trial for Verastem is a Phase 1/1b evaluating VS-4718, also a FAK inhibitor, as a new drug for advanced solid tumors. Up to 40 patients are being enrolled across three clinical sites in the U.S
A market capitalization of $285 million for a biotech with drugs only in Phase 1 or 2 may make some investors to shy away, but consider that Verastem has $78.0 million in cash and equivalents (as of latest filings with SEC for the quarter ended June 30) and a promising pipeline that could exponentially grow the valuation in only a few years.
In the micro-cap space, investors may want to be attentive to Sunshine Biopharma (OTCQB: SBFM) commencing clinical trials of its novel cancer drug Adva-27a to evaluate the compound as a new treatment for multi-drug resistant breast cancer. The uniqueness of Adva-27a, a Type II topoisomerase inhibitor, stems from its ability to evade the cancer cells multi-drug resistance machinery, clearly differentiating it from the dominating Roche drugs or most other drugs for that matter on the market today.
Genentechs latest trial results showed Kadcyla to extend progression-free survival in specific HER2-positive breast cancer patients by only 30 days. Similarly, Herceptin is used on the 20-25 percent of breast cancer patients that are HER2-positive. Importantly, both drugs are ineffective in multi-drug resistant patients, leaving a big opening for a new breast cancer drug, a gap that Sunshine Biopharma recognizes, but doesnt not see as the exclusive pathway to prosperity for Adva-27a.
Roche building a portion of its cancer drug empire on compounds acting upon HER2 supports the possibilities of Adva-27a as a treatment for multi-drug resistance, an area that few companies have been able to tap into. In Sunshine Biopharmas lab research, the company showed the drug to be effective in destroying tumor cells in drug-resistant cell lines of breast cancer, small-cell lung cancer, pancreatic cancer, and uterine cancer. A portion of the results of the companys studies has been published in the peer-reviewed journal Anticancer Research.
Research also supports a strong pharmacokinetic profile and lack of toxicity, even at high concentrations. In order to begin the first human trial of Adva-27a, which is scheduled to be hosted at McGill Universitys Jewish General Hospital in Montreal, Sunshine is completing GMP manufacturing of the drug for final toxicology testing as part of the Investigational New Drug application for the FDA. The manufacturing is being done in-house, with Sunshine parent company Advanomics Corp. in August agreeing to acquire Montreal-based Garmen Laboratories, bringing to the team a 45-employee staff and good manufacturing practices lab.
The low toxicity and wide number of possible indications are pillars for promising development for Adva-27a. Comparatively, Roche has bolstered its portfolio and revenue streams over the years by expanding approved indications for its drugs or into specific patient populations. Verastem exemplifies how quickly one promising drug can grow valuation and branch into multiple clinical trials. The strategy saves considerable time and millions of dollars in the regulatory process while also extending patent protection rights. Development of Adva-27a should gather steam once the anticipated clinical trials define the safety profile, maximum tolerated dose, etc.
With that data in hand, Sunshine will have the requisite tools to seek partners or independently develop the drug for the other cancer lines identified in pre-clinical research, subsequently making the drug even more valuable; certainly more than the companys current $11.85 million market cap.
Its presumable that the company, who historically keeps information close to the vest, is currently conducting additional pre-clinical research on Adva-27a for more cancer lines as it works to finalize its IND application, as that has been the modus operandi all along. Further, in a phone conversation with Sunshine Chief Executive Officer Dr. Steve Slilaty, we were told that the company intends to explore every option available through the FDA to expedite the clinical pathway, which could include seeking to capitalize on the latest initiatives of a Breakthrough Therapy designation that was put in place late in 2012 to incentivize biotechs to develop new drugs targeting areas of great unmet medical need. A drug addressing multi-drug-resistant forms of cancer would certainly seem to fit that bill.
While many investors are rightfully looking at Adva-27a for its immediate potential in advanced or multi-drug resistant breast cancer patients, the savvy investor will also postulate the companys efforts to expand into multiple indications and clinical trials of the drug candidate as gauged by the pre-clinical research of additional targets.
Every company has risks and those that swim in biotechnology investing waters are well aware of challenges with bringing a drug from the bench to the bedside, including necessary capital raises, regulatory approvals, marketing, and more. Its a massive industry, though, leaving room for companies from small to stalwart room for growth and always just one trial away from blockbuster possibility. Cancer is a fickle creature that is constantly in need of new therapies, but companies like the aforementioned with new approaches that can potentially grow into bona fide franchises like Roches while address a growing concern of drug resistance merit some extra attention.
Originally written for SECFilings.com, a leading provider of SEC filings, real-time alerts, and in-depth analysis, with a team of experienced financial writers that cover quarterly/annual reports, insider trading/hedge fund activity, and IPOs, spin-offs, and other disclosures of interest identified from time to time within documents filed with U.S. regulatory agencies. SECFilings.com may be compensated for its services in the form of cashed-based compensation or equity securities in the companies they write about, or a combination of the two. For a full disclaimer, click here SECFilings.com/disclaimer.aspx.
Don't Miss: Apple Impresses Analysts with Tuesday's iPad Event.