Novellus Systems Earnings: Shareholders Selling
S&P 500 (NYSE:SPY) component Novellus Systems, Inc. (NASDAQ:NVLS) reported higher profit for the first quarter as revenue showed growth. Novellus Systems, Inc develops, manufactures, sells and supports equipment used in the creation of chips and semiconductors.
Don't Miss: Wall St. Cheat Sheet's newest Feature Trades of the Month!
Novellus Systems Earnings Cheat Sheet for the First Quarter
Results: Net income for the semiconductor equipment and materials company rose to $96.4 million ($1.04/share) vs. $41.3 million (43 cents/share) in the same quarter a year earlier. A more than twofold rise from the year earlier quarter.
Revenue: Rose 49.6% to $413.2 million YoY.
Actual vs. Wall St. Expectations: NVLS topped the mean analyst estimate of $1.03/share. Estimates ranged from 98 cents per share to $1.10 per share.
Quoting Management: Richard S. Hill, Chairman and Chief Executive Officer said, "I'm pleased to report another solid quarter of strong results in revenue, earnings and cash flow. In addition to the solid operational performance, we returned $200 million to shareholders through continued execution of our stock repurchase program during the first quarter. Our confidence in the long-term growth potential for the industry and Novellus in particular remains bullish despite recent near term global instabilities. Novellus is well positioned for long-term growth as we continue to strengthen our ability to support the increasing technical challenges of our customers."
Key Stats:
The company has enjoyed double-digit year-over-year revenue growth for the past five quarters. Over that span, the company has averaged growth of more than twofold, with the biggest boost coming in the first quarter of the last fiscal year when revenue rose more than twofold from the year earlier quarter.
Last quarter marked the fifth consecutive quarter of gross margins expanding as the company's gross margin expanded 1.9 percentage points to 50.4% from the year earlier quarter. Over that span, margins have grown on average 14.9 percentage points per quarter on a year-over-year basis.
Competitors to Watch: Mattson Technology, Inc. (NASDAQ:MTSN), Amtech Systems, Inc. (NASDAQ:ASYS), Applied Materials, Inc. (NASDAQ:AMAT), Axcelis Technologies, Inc. (NASDAQ:ACLS), CVD Equipment Corporation (NASDAQ:CVV), Tegal Corporation (NASDAQ:TGAL), ASM Intl. N.V. (NASDAQ:ASMI), Varian Semiconductor (NASDAQ:VSEA), Lam Research Corporation (NASDAQ:LRCX), and FSI International, Inc. (NASDAQ:FSII).
Today's Performance: Shares of NVLS are down almost 3% in after hours trading.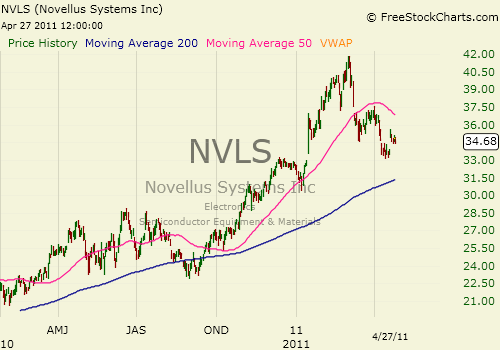 Don't Miss Wall St. Cheat Sheet's newest Feature Trades of the Month!