Now, It's Time to Talk About Obamacare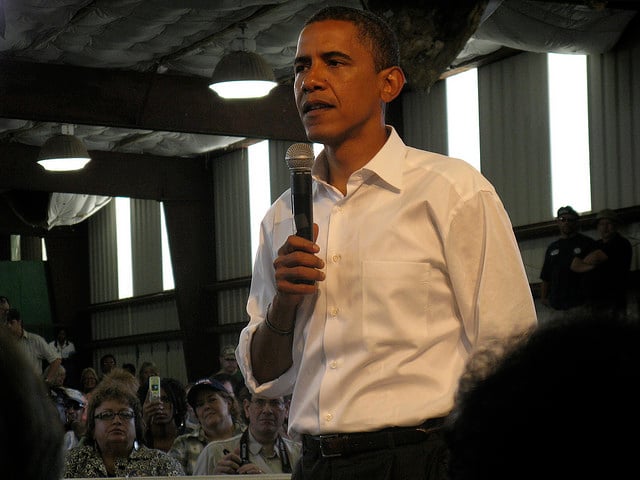 Many have criticized president Barack Obama in the political sphere for not devoting enough time to explaining and discussing the health care reform he championed since it was passed into law in March 2010. Even ardent supporters of the Affordable Care Act worried that reform fatigue had set it.
This criticism is a weighty one because there is clear evidence that a large number of Americans remains confused about the ramifications of the Affordable Care Act; Kaiser's August health tracking poll revealed public opinion and public knowledge of the bill's ramifications has remained generally unchanged when compared to previous polls conducted this year. Even though Obamacare-mandated insurance exchanges are scheduled to open for enrollment in approximately one month, roughly half the public — 51 percent — continues to say they don't have enough information about Obamacare to understand how it will impact them and their family, a percentage that has been fairly steady since the law was passed in 2010.
Incidentally, October 1, the day the exchanges are scheduled to open for enrollment, is the beginning of the new fiscal year — the day that government funding ends.
Yet, the Obama administration has made a concerted effort in the past month to talk about Obamacare whenever possible, and since spring, the White House has strengthened its heath care team. After all, "making sure the Affordable Care Act is implemented well and and that the public perceives that it's helping them has to be a top concern for the White House," Ron Pollack, executive director of Families USA and a founder of Enroll America, two organizations that promote the law, told Politico.
Here's a look at recent Obamacare's recent publicity:
1) "The Tonight Show with Jay Leno" — August 6
"Well, on October 1st, people are going to be able to sign up if they don't have health care.  If you've got health care, you don't have to do anything…If you've got a kid who has just graduated, doesn't have a job with health care, they can stay on their parent's plan," Obama told Leno. "Free preventive care and free contraceptive care for young women and families — all that stuff is in place now. No lifetime limits. So a lot of consumer protections got put in place."
2) Videoconference with State Health Officials from the Situation Room — August 21
3) Twitter Conversation with Katy Perry
After pop star Kay Perry, who has 41 million followers, retweeted this Obamacare message…
If you're one of millions of young Americans w/out health insurance, you can get affordable coverage starting Oct. 1 http://t.co/1zEA5K9Ebl

— Barack Obama (@BarackObama) August 26, 2013
… the president's official account responded with this tweet:
Thanks for spreading the word. #ROAR MT @katyperry: RT @BarackObama: Get affordable coverage starting Oct. 1 http://t.co/1zEA5K9Ebl

— Barack Obama (@BarackObama) August 26, 2013
4) White House Reception — August 27
On Tuesday, the Obamas hosted a private reception at the White House for a group of important figures in the African American community, including Oprah Winfrey, actor Forest Whitaker, music producer Berry Gordy, and entertainer and activist Dick Gregory. These individuals, noted radio talk show host Joe Madison, can sway the African-American community into supporting Obamacare, reported Politico. As with young adults, the African-American community is an important group to target for the Obama administration because it has the highest uninsured rate of any demographic.
The president "talked about health care as a civil rights issue, and how advocates and media personalities could use their influence to help educate their communities and listeners about the law," a White House official told the publication, while Madison noted that the president clearly appeared to be in a pre-implementation campaign mode. "I would suspect some of them would be asked by the White House to use their celebrity status to pitch for ACA, he added. "He wanted to get it on people's minds and get them at least thinking about it. When would he have a better of opportunity than at this gathering?"
5) Radio Interview and March on Washington
This week — August 28, to be precise — marked the 50th anniversary of Martin Luther King Jr.'s historic "I Have a Dream" speech, which was part of the larger March on Washington D.C. for Jobs and Freedom political rallies. To this day, it remains the largest political rallies for human rights in United States history.
As the capital prepares to honor the civil rights leader, the administration is working to tie the celebration of the anniversary of the March on Washington to the implementation of the Affordable Care, a radio interview President Barack Obama gave shows.
During the interview, which aired on Tuesday, the president said he believed King would approve of his signature health care reform. "I think he understood that health care, health security is not a privilege; it's something that in a country as wealthy as ours, everybody should have access to," he told hosts Tom Joyner and Sybil Wilkes, speaking from the White House.
When asked what he thought Dr. King would have said about our progress towards his dream, Obama said, "I don't think that he would look and say nothing has changed." But, he would also say, added Obama, that "when it comes to the economy, when it comes to inequality, when it comes to wealth, when it comes to the challenges that inner cities experience, he would say that we have not made as much progress" in that area as we have made with civil and social justice. The question is whether the ordinary person can succeed day-to-day, and "we have not made as much progress as we need to on that," the president continued. "I spend all my time thinking" about how the United States can "give opportunity to everybody so if they work hard they can make it in this country."