NPS Pharmaceuticals Honored For FDA Gattex Approval and 2 More Heavily Traded Stocks to Follow
NPS Pharmaceuticals (NASDAQ:NPSP): Current price $14.95
On Wednesday, NPS announced that it was honored by the National Organization for Rare Disorders for the FDA approval of Gattex (teduglutide [rDNA origin]) for injection, which is indicated for the treatment of adult patients suffering from short bowelsyndrome, who rely upon parenteral support. SBS is a rare and potentially fatal gastrointestinal disorder, in which patients can not absorb sufficient nutrients and fluids through the intestine from food. NPS is a biopharmaceutical firm that originates and delivers therapies which transform the lives of patients having rare diseases on a global basis.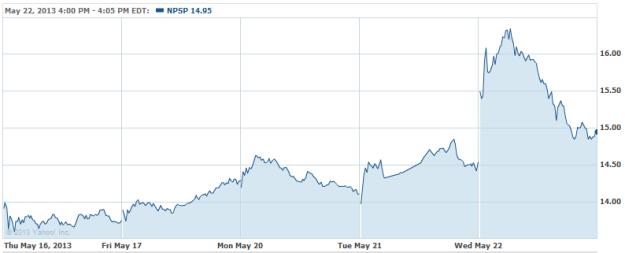 Mondelez International (NASDAQ:MDLZ): Current price $31.77
Mondelez reports that Chairman and Chief Executive Irene Rosenfeld will present at the Citi 2013 Global Consumer Conference in New York on May 29, at 8:20 a.m. Eastern Time. Rosenfeld will discuss the firm's opportunity to grow its margins and fund growth investments in emerging markets.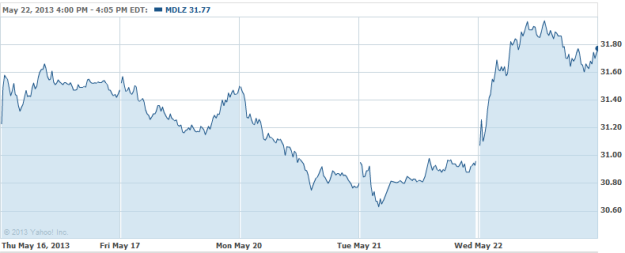 Cleantech Solutions (NASDAQ:CLNT): Current price $9.70
Cleantech on Wednesday said that it has become a certified provider of components to China Petroleum and Chemical Corporation (Sinopec) and China National Petroleum Corporation. During this month, the firm delivered protoypes to Sinopec and CNPC of forged flanges and pipes, which are components employed in oil and natural gas onshore and offshore drilling and refinery equipment. Cleantech is a maker of metal components and assemblies, mostly utilized in the wind power, solar and other clean tech industries and dyeing and fishing equipment to the textile industry.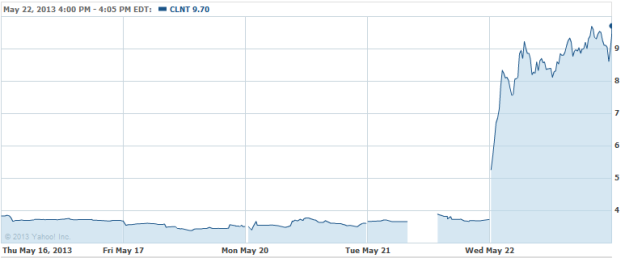 Don't Miss: Bernanke's Testimony: Is Congress Failing the Economic Recovery?