Nuance Dips After Earnings Report and 3 Heavily Traded Shares Seeing Action Today
BlackBerry (NASDAQ:BBRY): Current price $16.65
BlackBerry will cease the sale of smartphones in Japan, according to a spokeswoman to AllThingsD. In a statement, the company said that, "We are in the process of launching BlackBerry 10 globally in key markets, and we are seeing positive demand for the BlackBerry Z10 in countries where it has already launched. Japan is not a major market for BlackBerry and we have no plans to launch BlackBerry 10 devices there at this time. However, we will continue to support BlackBerry customers in Japan."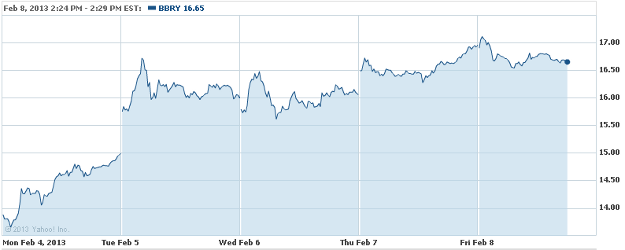 Sirius XM Radio (NASDAQ:SIRI): Current price $3.13
Sirius is experiencing subscription additions due to increasing vehicles sales in the United States, better subscriber retention, the firm's sustained new vehicle conversion rate, and its push into the used-car segment. Although the royalty rates are set to rise yearly, Sirius XM will continue to swell its cash flow following its robust subscription-based business model. Also, adding unique programming, making its Internet-based service more appealing, and a heavier push in the used car segment will be areas of concentration for the firm. This year, Sirius XM expects in excess of $3.7 billion in revenues and approximately 1.4 million net subscriber additions.
Are these stocks a buy or sell? Let us help you decide. Check out our Stock Picker Newsletter now.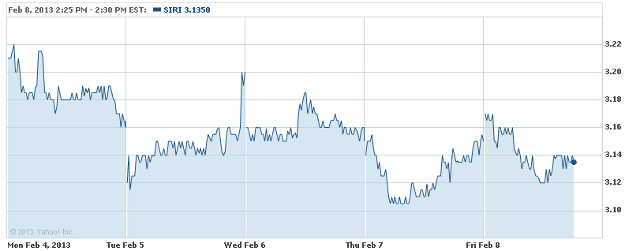 Nuance Communications. (NASDAQ:NUAN): Current price $19.99
Shares were down by 18 percent after Nuance missed its first quarter earnings by one cent and reduced its outlook for the fiscal year 2013 under expectations. The company, whose tech is behind the Dragon Naturally Speaking software, posted first quarter adjusted net income of 35 cents per share after Thursday's close, in comparison to 34 cents per share year-over-year from 2012, against consensus of 36 cents. The loss was based on higher costs linked to acquisition-related expenses.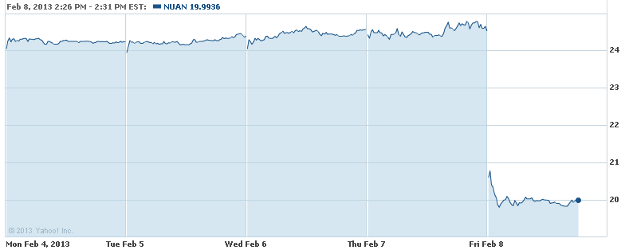 Pfizer (NYSE:PFE): Current price $26.79
Pfizer wants to eliminate more than $1 billion for its budget and has confirmed plans to get out of a clinical research operation in Singapore, implying that even research in the rapidly-growing Asia-Pacific region is not safe from cutbacks.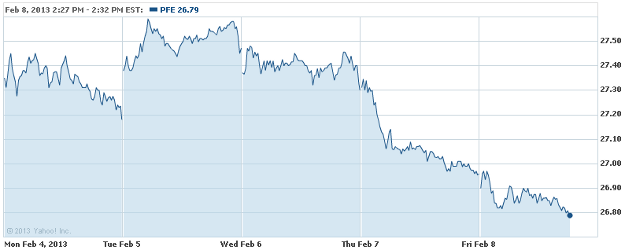 Don't Miss: Have the Golden Arches Lost Their Shine?