Nucor Earnings: Profit Jumped Fivefold
S&P 500 (NYSE:SPY) component Nucor Corporation (NYSE:NUE) reported net income above Wall Street's expectations for the first quarter. Nucor Corporation and its affiliates manufacture steel and steel products for customers mainly located in North America.
Don't Miss: Wall St. Cheat Sheet's newest Feature Trades of the Month!
Nucor Earnings Cheat Sheet for the First Quarter
Results: Net income for Nucor Corporation rose to $159.8 million (50 cents/share) vs. $31 million (10 cents/share) YoY. A substantial increase from the year earlier quarter.
Revenue: Rose 32.3% to $4.83 billion YoY.
Actual vs. Wall St. Expectations: NUE beat the mean analyst estimate of 35 cents/share. Estimates ranged from 25 cents per share to 38 cents per share.
Key Stats:
The company has enjoyed double-digit year-over-year revenue growth for the past five quarters. Over that span, the company has averaged growth of 40.6%, with the biggest boost coming in the second quarter of the last fiscal year when revenue rose 69.3% from the year earlier quarter.
Competitors to Watch: Steel Dynamics, Inc. (NASDAQ:STLD), AK Steel Holding Corp. (NYSE:AKS), United States Steel Corp. (NYSE:X), Grupo Simec S.A.B. de C.V. (ADR) (AMEX:SIM), Universal Stainless & Alloy Products (NASDAQ:USAP), Gerdau SA (ADR) (NYSE:GGB), Worthington Industries, Inc. (NYSE:WOR), Schnitzer Steel Industries, Inc. (NASDAQ:SCHN), Evraz Highveld Steel & Vandium Ltd (ADR) (HGVLY), and Friedman Industries (AMEX:FRD).
Today's Performance: Shares of NUE are trading at $46.15 as of April 21, 2011 at 7:28 PM ET, down 0.7% from the previous closing price of $46.48.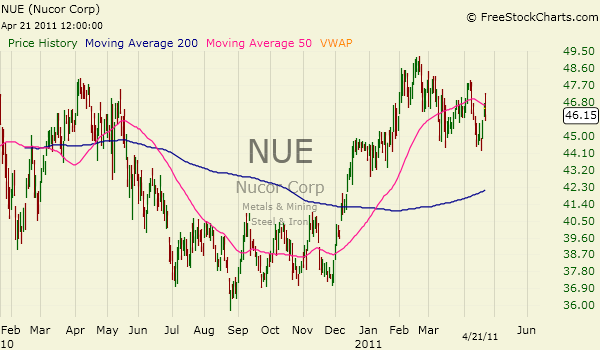 Don't Miss Wall St. Cheat Sheet's newest Feature Trades of the Month!