Number-One Boeing Operator to Resume 787 Flights and 2 Other Dow Movers to Watch
The Boeing Company (NYSE:BA): Current price $92.14
On Saturday, Chief Executive  Shinichiro Ito of ANA Holdings , the largest operator of Boeing 787s, said that the company intends to resume scheduled flights of the jet on June 1. Ito flew on the airline's initial test flight with the Boeing Commercial Airplanes President Ray Conner following completion of a repair to the battery system, and announced that ANA will not alter its plans for introducing the Dreamliner to its fleet. Beyond that, the airline will receive 10 additional planes in the year and will assign the next delivery to expanding its domestic routes.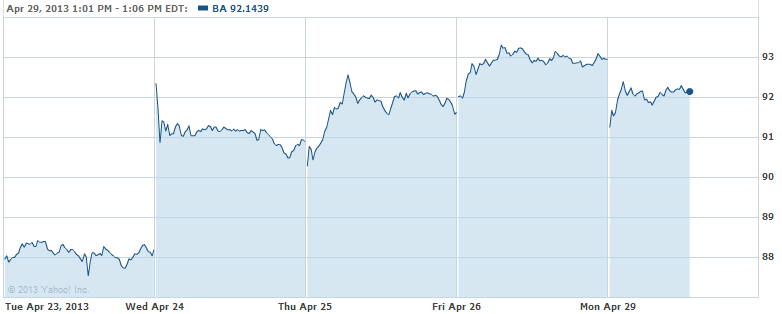 Proctor & Gamble Co. (NYSE:PG): Current price $77.62
P&G brands Crest and Oral-B Pro-Health have announced their partnership with the offensive tackle from Texas A&M Luke Joeckel, and congratulate him on being the 2nd overall pick in the 2013 NFL Draft to the Jacksonville Jaguars. Joeckel is working jointly with Crest and Oral-B Pro-Health to 'Go Pro' with his oral care and to assist others 'Go Pro' in their careers, with a donation to the international non-profit organization Dress for Success.

Caterpillar (NYSE:CAT): Current price $83.30
Sany Heavy Industry, a competitor of caterpillar, reported on Saturday that its net profit fell by 44 percent in the first three months of 2013, along with a decline in sales. Profit fell to $253 million while  Sany's first-quarter sales posted a decrease of 24 percent in the same period. The firm supplied no reason for the declines, although China's economic growth was a lower-than-anticipated 7.7 percent in the first quarter of 2013, and demand for construction equipment has been impacted by government measures to slow the real estate market.

Don't Miss: Does the FAA Love Boeing Unreasonably Much?