NVIDIA Says Goodbye to SVP of Mobile Communications and 2 Chip Stocks To Note Now
NVIDIA (NASDAQ:NVDA): The chipmaker has lost some of its top talent, as reports are coming to light revealing that Stan Boland, founder of Icera, will be leaving NVIDIA to pursue other opportunities at the U.K.-based wireless startup Neul. Boland founded Icera in 2002, and served as the executive chief until 2011, when NVIDIA purchased the company for $367 million. Bolund stayed on with NVIDIA through October of last year, when his LinkedIn (NYSE:LNKD) profile reveals that he left the firm. Neul specializes in Weightless communications, a new industry standard mobile bandwidth nestled in "white spaces" between TV transmissions for two-day way data communications.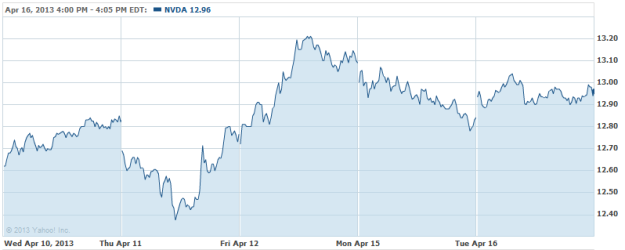 Taiwan Semiconductor Manufacturing (NYSE:TSM): Morgan Stanley's Bill Lu has downgraded his ratings of the company from Overweight to Equal Weight, and lowered his price target from $110 to $105 on the Taipei market. Lu cited diminishing upside for supplying the smartphone and tablet markets as being responsible for his decision, and that even winning a contract from Apple (NASDAQ:AAPL) doesn't add to the upside. Instead, Lu says that the return from supplying the markets with chips will be less than before, both in terms of semiconductor content and the diminishing returns of smaller feature sizes, Barron's writes.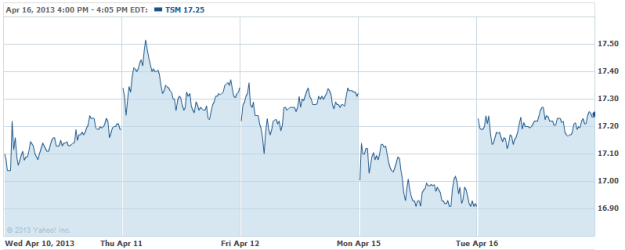 ARM Holdings (NASDAQ:ARMH): ARM Holdings has announced that it will be trading ex-dividend on April 17, this Wednesday. The company will be paying out a cash dividend of $0.1342 per share on May 28th, to shareholders who purchased company stock prior to the ex-dividend date. The dividend is a 67 percent increase over last quarter. According to Zacks Investment Research, ARM earnings are expected to grow by some 41 percent in 2013, contrasted to the 5.5 percent industry average growth.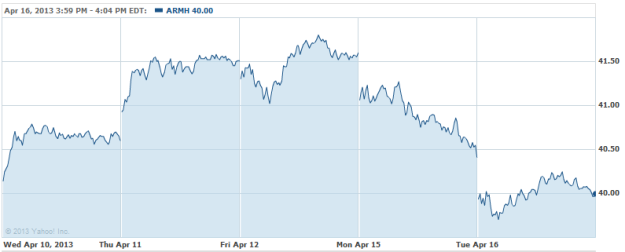 Don't Miss: Can Dell Squeeze More From Icahn?