NY State To Sue BofA and 2 Other Hot Stocks To Watch
Bank of America Corporation (NYSE:BAC): Current price $12.53
New York Times DealBook is reporting that the state of New York is poised to bring a suit against Bank of America and Wells Fargo (NYSE:WFC) regarding claims that the firms violated the terms of a mortgage settlement signed in 2012, according to a number on inside sources. The $26 billion National Mortgage Settlement between state attorney general and five financial institutions included a new array of mortgage servicing standards for dealing with underwater homeowners. New York Attorney General Eric Schneiderman's office has documented 210 violations of the new rules by Wells Fargo and 129 violations by Bank of America, according to DealBook.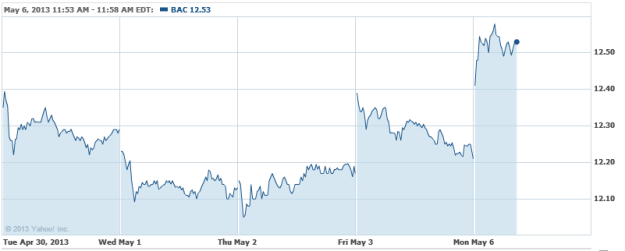 BMC Software (NASDAQ:BMC): Current price $45.49
BMC will be acquired by a private investor group headed by Bain Capital and Golden Gate Capital, along with GIC Special Investments and Insight Venture Partners for $46.25 per share in cash. Through the terms, affiliates of the Investor Group will purchase all outstanding BMC common stock for a total amount of $6.9 billion. The transaction was approved by unanimous vote of those directors present.

Intel Corporation (NASDAQ: INTC): Current price $23.94
Intel's wholly owned subsidiary McAfee will purchase the network firewall solutions provider Stonesoft, with a bid of $5.90 for each outstanding share in the all-cash transaction, representing a 128-percent premium relative to Stonesoft's May 3 close. The aggregate value of the acquisition announced Monday is around $389 million. Stonesoft is based in Helsinki, with over 6,500 customers on a global basis and is expected to complement McAfee's existing suite of Internet and network security products and services.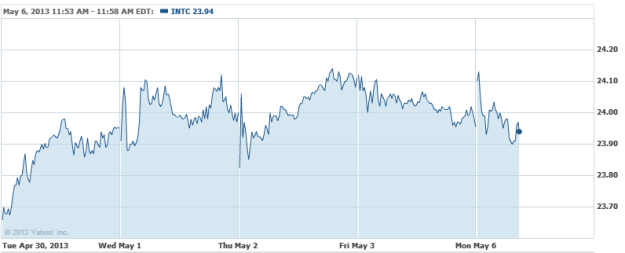 Investing Insights: Is JPMorgan Chase Ready To Explode?