NYSE Euronext Confirms Spin-Off Plans and 3 Morning Hot Stocks Seeing Action Today
Sony (NYSE:SNE): Current Price $13.46
Britain's Information Commissioner's Office has fined Sony (NYSE:SNE) £250,000, or about $396,100, for security measures that, "were simply not good enough" to prevent a hacking attack on its PlayStation Network that compromised the personal information of millions of users. According to David Smith, deputy commissioner and director of data protection, the cyber attack was one of the most serious ever reported to the regulator, and that Sony should have known better, considering "they had access to both the technical knowledge and resources to keep this information safe."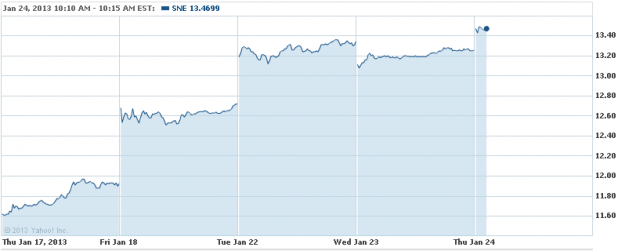 Goldman Sachs Group Inc (NYSE:GS): Current Price $146.65
Goldman Sachs Group Inc (NYSE:GS) has been held not liable for negligence in a $580 million suit filed by the founders of speech recognition systems pioneer Dragon Systems. The founders, Jim and Janet Baker, alleged that Goldman Sachs failed in its role as an adviser to Dragon by not properly vetting Belgian company Lernout & Hauspie Speech Products NV, which bought Dragon in an all stock deal in June 2000. A few months after the deal, the Belgian company was exposed as a fraud and the selling Dragon shareholders were left with worthless stock. The speech recognition technology they developed over decades was sold during the bankruptcy proceedings of the Belgian company to ScanSoft Inc. The jury accepted Goldman Sachs' claim that the Bakers had mishandled the negotiation, breached their fiduciary duties to other co-founders and mis-advised Dragon's board on the proposed deal.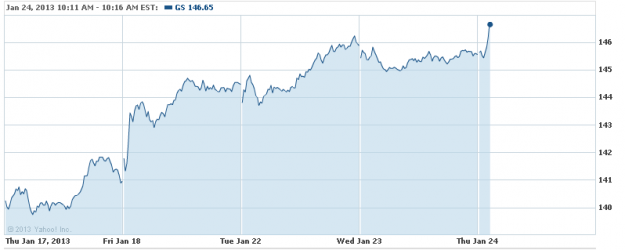 Are these stocks a buy or sell? Let us help you decide. Check out our Stock Picker Newsletter now.
NYSE Euronext (NYSE:NYX): Current Price $33.59
NYSE Euronext (NYSE:NYX) Chief Executive Duncan Niederauer confirms to the Wall Street Journal that post the company's takeover by the Intercontinental Exchange Inc (NYSE:ICE), the Euronext unit would be spun off, rather than sold, even though enquiries have been received for the purchase of the unit from NASDAQ OMX Group Inc (NASDAQ:NDAQ) and the London Stock Exchange Group. The Euro next unit operates exchanges in Paris, Amsterdam, Brussels and Lisbon. According to Equity Research Desk, an IPO of Euronext could value it as high as $1.39 billion.

Delta Airlines Inc (NYSE:DAL): Current Price $13.91
Delta Airlines Inc (NYSE:DAL) is discussing the purchase of new jets worth about $1 billion or more with plane makers Airbus (AMEX:EAD) and Boeing Co (NYSE:BA), and the order may be for the current versions of the Airbus A320 and Boeing 737, not their newer models. From two dozen to 30 planes may be ordered by Delta, who is seeking that the Boeing or Airbus take over some of the airline's older 50 seater regional jets in an exchange deal similar to the one with Bombardier Inc in December.

Don't Miss: GOP Debt Ceiling Bill Passes House, Moves to Senate.