Obagi Subject of Bidding War and 2 Stocks at 52-Week Peaks
Obagi Medical Products (NASDAQ:OMPI): Closing price $
The potential acquisition of Obagi by Valeant Pharmaceuticals International (NYSE:VRX) and Merz Pharma Group, has turned into a bidding war, which is likely to affect Valeant's guidance. Meanwhile, Obagi shares are not exactly being negatively impacted. Shares closed up 0.99 percent Thursday at $25.44, and have been traded between $10.70 and $25.50 the last 52 weeks.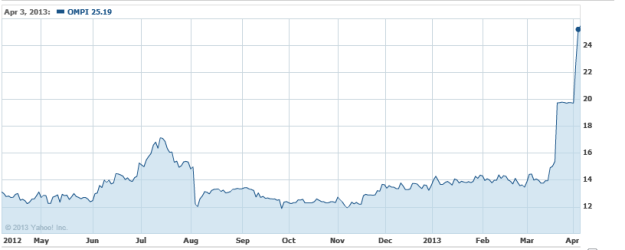 Adobe Systems Incorporated (NASDAQ:ADBE): Closing price $44.21
On Thursday, the company announced Adobe Anywhere for video, a modern, collaborative workflow platform that allows teams using Adobe professional video tools to collaborate, enabling the access and management of centralized media and assets across virtually any network. Revealed as a tech preview in 2012, Adobe Anywhere supports tools such as Adobe Premiere Pro, Adobe After Effects, and Adobe Prelude, and will be highlighted at the 2013 National Association of Broadcasters show, with final availability expected in May. Shares closed up 1.17 percent on Thursday at $44.21, and have been traded in a 52-week range between $29.52 and $44.25.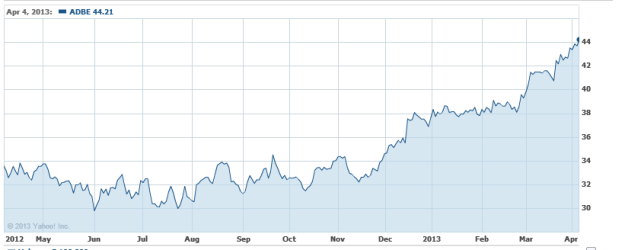 Ventas (NYSE:VTR): Closing price $74.65
The firm reports that Fortune magazine has chosen it as one of the World's Most Admired Real Estate Companies in 2013. Ventas Chairman and Chief Executive Debra A. Cafaro remarked that "We are thrilled and honored to receive this recognition by our peers in the corporate community," said. "For more than a dozen years, we have focused on sustaining excellence in all aspects of our business and delivering consistent, superior total shareholder return. Our successful performance results from our cohesive, collaborative teamwork and our commitment to building value." Shares closed up 1.52 percent on the day at $74.65, having been traded in a 52-week range of $53.94 to $74.77.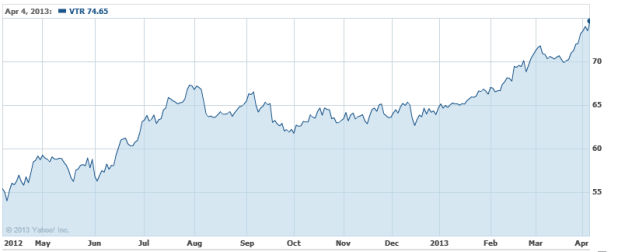 Don't Miss: These 5 Companies Love Tax Season.