Obama: CA Exchange is Good News for Healthcare Reform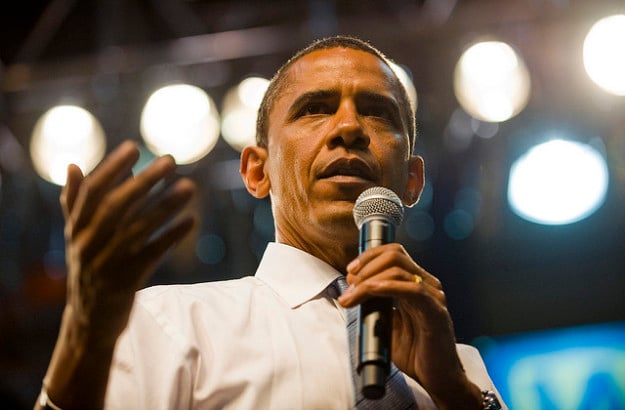 Not so quiet critiques of the Affordable Care Act championed by President Barack Obama are even starting to come from members of his own party. Max Baucus — the Democratic chairman of the Senate's Finance Committee and a key architect of the healthcare reform law — told Health and Human Services Secretary Kathleen Sebelius at a late April hearing that he is concerned that the implementation of the Obama administration's signature healthcare law will be a train wreck — a phrase that has become a mainstay of Republican attacks. "I just see a huge train wreck coming down," he said. "I'm very concerned that not enough is being done so far — very concerned."
To defend this piece of legislation, as he has been forced to do so often since it was passed in March 2010, the president spoke before an audience at the Fairmont Hotel in San Jose, California on Friday. The state of California is an especially important spot from which to make this appeal. Not only are there 5.3 million insured people living there, but also, the most populous state in the union has already shown that the main provision of Obamacare, the health insurance exchanges, could be viable.
NEW! Discover a new stock idea each week for less than the cost of 1 trade. CLICK HERE for your Weekly Stock Cheat Sheets NOW!
Customers have been told by numerous political pundits that they will face a terrible price shock when millions of uninsured Americans — many of whom have not been covered for years or have been diagnosed with a condition that previously excluded them for insurance coverage — flow into the system. But as The New York Times opinion columnist Paul Krugman noted that "important new evidence — especially from California, the law's most important test case — suggests that the real Obamacare shock will be one of unexpected success." When California revealed its pricing structures for the state-run health insurance exchanges on May 23, premiums looked more affordable than previously expected, giving momentum to Obama's insistence that the legislation will make insurance better and more affordable.
"No matter what, every single consumer will be covered by the protections of this law, permanently," tweeted Obama Friday morning, ahead of the press conference.
The president's prepared comments contained no surprises. But nevertheless, they conveyed an important message: look at California. His words highlighted how the insurance exchanges have "shown excellent results" in that states that have revealed their pricing structures and implemented the exchanges "properly." You can listen to negative speak or fear mongering, or you can look at what is happening now in California, Obama said, laying out what he called the "bottom line" for Americans.
While he acknowledged that implementation will experience some small glitches, as would the implementation of any large-scale legislation, the president stated it was still important for Americans to sign up and shop for coverage on the exchanges, which he likened to online marketplaces for flight or hotel deals. Those types of websites enable customers to compare prices, thereby increasing competition between providers, and the exchanges are meant to function in a similar way.
NEW! Discover a new stock idea each week for less than the cost of 1 trade. CLICK HERE for your Weekly Stock Cheat Sheets NOW!
Obama finished his remarks by noting that quality healthcare should not be a privilege but a right, and the Affordable Care Act will serve to make that sentiment a reality. For the 85 percent of Americans who already have insurance, the reform will increase benefits and add cost protections, while for those without insurance, Obamacare means access to coverage. "Let's stop fighting old battles," he said.
Still, it is important to remember that his healthcare bill is currently at the height of its unpopularity; a survey conducted by NBC News and The Wall Street Journal showed that 49 percent of Americans think the Affordable Care Act is a bad idea.
Follow Meghan on Twitter @MFoley_WSCS
Don't Miss: 4 Ways Americans Are Financially Illiterate.