Obama: Technology Will Make Health Insurance Transparent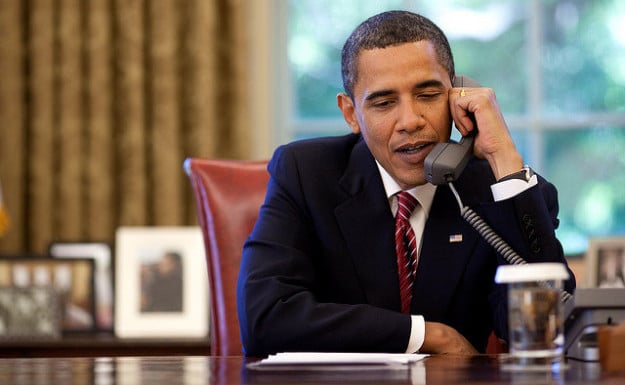 President Barack Obama signed an executive order in May that made all federal data freely accessible in a form that can be used by software developers, which has come to be known as "machine-readable format." The president, along with senior technology adviser Todd Park and Chief Information Officer Steven VanRoekel, made the decision as part of efforts to catalyze new industries in energy, education, security, and the nonprofit sector with new open data guidelines.
The mission has an objective reminiscent of former President Ronald Reagan's decision to release the government's satellite data to digital cartographers. After Korean Airlines Flight 007 was shot down over Soviet airspace in 1983, Reagan thought it would be strategic for airlines to be able to locate any plane in real time.
The unintended consequence of that move was GPS, which powers everything from Google (NASDAQ:GOOG) Maps to Yelp (NYSE:YELP) to an untold number of smartphone apps. For Obama, the larger goal of his data release is open government, but in no small way is the success of the Affordable Care Act tied to his efforts to have information flowing more freely.
Obama on Tuesday held a brief press conference on the topic, during which he presented the "new management agenda." The underlying message was transparency, and that is where Obamacare comes in: a signature assumption of health care reform is that transparency in health care plans will lead to greater competition and increased savings.
The health insurance exchanges, which are expected to bring coverage to millions of uninsured Americans starting next year, are dependent on that assumption. The online marketplaces where customers will shop for coverage are being designed so that Americans can comparison-shop the costs and features of different health care plans. However, this feature will only work if there is transparency between government agencies and if price-comparison data is made available to consumers.
"Back in 2007, when I was first running for this office, I had the opportunity to visit Google headquarters in Mountain View, in Silicon Valley, to discuss ways we could use technology to allow more citizens to participate in their democracy, and bring a government built largely in the 20th century into the 21st century," Obama said. "Finally, for the first time in history, we've opened up huge amounts of government data to the American people, and put it on the Internet for free." The president noted how that information has spurred innovation in the marketplace as entrepreneurs have harnessed government data to improve services.
But, more importantly, with growing concerns about the successful implementation of Obamacare, the president noted how his administration's efforts to increase efficiency will play a role in the rollout of health care reform.
The recently relaunched HealthCare.gov will allow Americans to log on and compare an array of private health insurance plans, the president explained. And, "because you'll finally be part of a new pool with millions of other Americans, insurers will actually want to compete for your business," Obama said, to which transparency is essential to the success of the exchanges.
Here's how the main U.S. indexes traded on Tuesday:

Follow Meghan on Twitter @MFoley_WSCS
Don't Miss: 5 Power Players That Could Replace Ben Bernanke.