Obama to Americans: No Excuses for Obamacare Glitches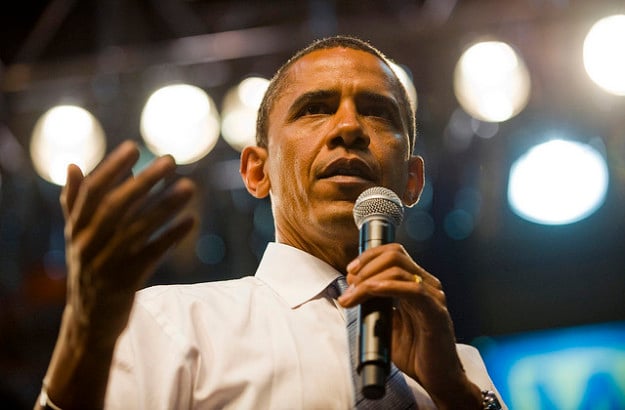 On Monday morning, from the Rose Garden of the White House, President Barack Obama began damage control in earnest, addressing the glitches that have plagued the opening weeks of the Affordable Care Act's online insurance marketplaces. Signing up for coverage via healthcare.gov, the web portal that links customers to the online marketplaces for the 36 states with federally-facilitated exchanges has been particularly troublesome, with hours of waiting, a backlog of potential enrollees, problems calculating subsidies, and numerous error messages. But, speaking before an audience of consumers, small business owners, and pharmacists, the president had one point to emphasize: the product is good.
Facing criticism from Republican lawmakers and other Obamacare detractors, he did acknowledge that, "There's no sugarcoating it. The website has been too slow. People have been stuck during the application process." Yet, while Obama said the system glitches were unacceptable and an army of technical experts are working to fix the problems that have hampered the implementation of the cornerstone provision of the Affordable Care Act, he argued that Obamacare as a whole is working as planned.
The health care reform is more than a website, he explained. Excluding the website, the health care reform is providing new consumer protections to millions of Americans, and new benefits — including mammograms and mental health care services — are now required, he added.
Even with the technical problems, the president stressed how Americans who had once been denied insurance because of preexisting conditions are now able to find affordable coverage and those individuals and families who have had the chance to sign up are "thrilled" with the results, an essential component of his argument that the "essence of the law, the health insurance that's available to people, is working just fine."
To highlight how well the "essence of the law" is working, the president was introduced by a testimonial from small-business owner Janice Baker, the first woman to enroll in Delaware's exchange, which is operated in a partnership in the federal government, meaning its customers are channeled through healthcare.gov. "Like many consumers out there, it took me a number of frustrating attempts before I could apply and select my plan," she said, but the results were worth it. She had applied to three private insurance plans previously, only to be rejected as the result of her preexisiting condition. "I'm here today to encourage other people and to tell them to have patience with this new system," she said. The policy she purchased through healthcare.gov saves her $150 per month, Baker said.
"It's true, it took her a few tries, Obama said later in his speech, but Baker will never have to worry that one illness will cause her to lose her business. He also stated that six in ten uninsured Americans can get coverage for less than $100 per month. To the president, both examples show that the Affordable Care Act is bring millions of Americans a quality and affordable insurance product. That is the bottom line, according to Obama. "The product, the health insurance, is good. The prices are good. It is a good deal," he said. "People don't just want it, they're showing up to buy it." That is why "nobody is madder than me about the fact that the website isn't working as well as it should, which means its going to get fixed."
Despite the website glitches, Obama maintained that purchasing insurance via the online marketplaces is still easier than buying a policy in the private market. There are no longer pages and pages of medical history to fill out, and thanks to the online marketplaces, customers need only visit one website to compare policies rather contact numerous insurers to determine the plan with the best value. But even so, he admitted that he wanted  "the cash registers to work" and "the check out lines to be smooth." There are "no excuse for the problems," Obama said.
The president's comments different quite significantly from data that has been reported by independent research firms. In its examination of consumer activity on the federal health care exchanges, the nonpartisan research firm Millward Brown Digital found a much bleaker reality that what official government rhetoric suggests: the massive stream of interest resulted in only a small trickle of actual enrollments.
Data compiled last week by the nonpartisan research firm shows that healthcare.gov received 9.47 million unique visitors through October 5, but just 196,000 people began the 30-step enrollment process and only a small number finished, which is likely a reflection of continued technical problems as well as customers lacking the necessary information and patients to complete all the enrollment steps. In total, only 36,000 people — roughly 1 percent of those who attempted to register for the federal exchange — enrolled.
A blog post published by the Department of Health and Human Services said that some users of healthcare.gov "have had trouble creating accounts and logging in to the site, while others have received confusing error messages, or had to wait for slow page loads or forms that failed to respond in a timely fashion." Due to those glitches, HHS said it is "bringing in some of the best and brightest from both inside and outside government to scrub in with the team and help improve HealthCare.gov."
That same October 20 post reported that healthcare.gov had received 19 million visits to date, while anonymous Obama administration officials told the Associated Press that 476,000 health insurance applications have been filed through the exchanges. However, without exact enrollment figures, analysts cannot assess whether the program is on track to reach the 7 million people the nonpartisan Congressional Budget Office has projected will sign up in the current six-month enrollment period.
Referencing the president's Rose Garden speech, Senate Minority Leader Mitch McConnell, a Republican from Kentucky, said "another campaign-style event won't solve the myriad problems facing consumers under Obamacare." Citing reports that indicate few have purchased policies, he added that "for months, the American people have been learning about the impact Obamacare will have on individuals and families in the form of higher premiums, disrupted insurance and lost jobs — more broken promises from the administration."
Follow Meghan on Twitter @MFoley_WSCS
Don't Miss: What Are the Top Five Factors in Dow Jones Rise?