Obamacare and Economic Woes Plague Small Businesses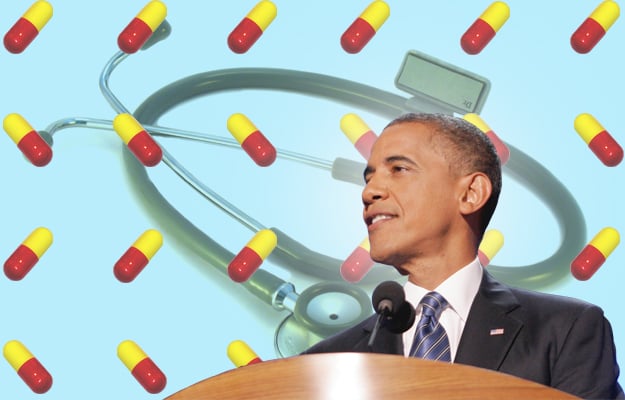 Amid a sluggish economy and ongoing concerns over the government's rollout of the Affordable Care Act, small business owners lack optimism about the future. The National Federation of Independent Business, the leading nonprofit small business association representing small and independent businesses, reported that its Small Business Optimism Index edged slightly higher to 92.5 in November from 91.6 in the previous month.
Since the recession technically ended, the average value of the index is 91, which is eight points below the 35-year average. "There is a hint that owners are getting an inkling of what Obamacare might mean for labor costs, concern about the cost and availability of insurance bumped up 3 percentage points after a long period of no real change," said NFIB Chief Economist Bill Dunkelberg.
"Small firms aren't currently required to provide insurance (this could change in the future of course), but many do. These owners may find their insurance plans 'unacceptable' to Obamacare and be obliged to either pay more for the coverage or abandon it and pay the benefit in cash. This will certainly be a source of angst and confusion in 2014."
On the positive, eight of the 10 index components were positive and gained a total of 14 percentage points. Small businesses planning to increase employment jumped 4 points, while businesses saying now is a good time to expand increased 3 points. However, those expecting the economy to improve in the coming months dropped 3 points, while the earnings trends component fell 1 point.
NFIB owners increased employment by a seasonally adjusted average of 0.05 workers per firm in November, half the October figure, but positive. In fact, 51 percent of the owners hired or tried to hire in the last three months, the highest level of hiring activity since October 2007. Nonetheless, 44 percent reported few or no qualified applicants for open positions.
Capital spending also rose to its highest level since early 2008, but remains below normal levels. The frequency of reported capital outlays over the past 6 months fell 2 points to 55 percent, stuck in the "mid-50s" since recovering in 2012 from the lows of 45 reached in late 2009 and early 2010. The percent of owners planning capital outlays in the next 3 to 6 months rose 1 point to 24 percent.
Sales remained in negative territory for small businesses. The net percent of all owners reporting higher nominal sales over the past three months remained at negative 8 percent. Furthermore, 15 percent of small employers cite weak sales as their top business problem. Government red tape and regulations were the top two problems at 22 percent and 21 percent, respectively.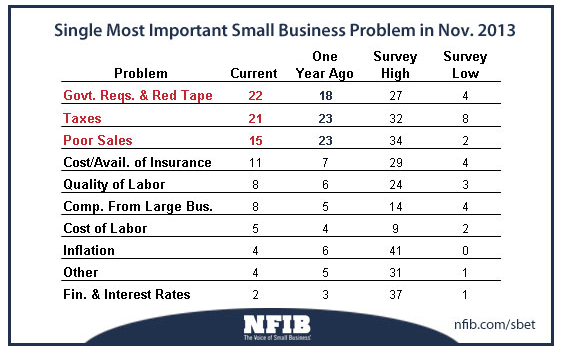 "The year is not ending on a high note in the small business sector of the economy. The 'bifurcation' continues, the 'Fortune 500' are performing well with the stock market hitting record high levels. But the small business sector is showing little growth beyond that driven by population growth," explained Dunkelberg. "Since January 1st, the S&P has added $3.8 trillion in value — but have output and profits really increased that much? Or is this the work of the Federal Reserve, which has voted to leave rates unchanged in the last 39 meetings, and likely adding to this total in December. Maybe fiscal policy will get on course and give owners something to cheer about."
Don't Miss: How Bad Is America's Income Gap?
Follow Eric on Twitter @Mr_Eric_WSCS