Obamacare: Do First-Day Snags Hide Proof of Success?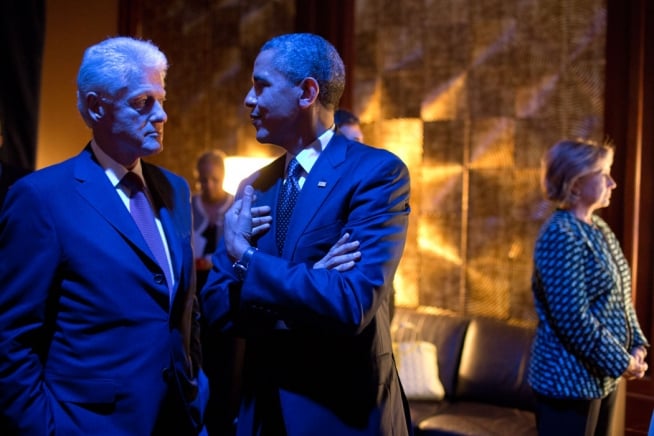 Were the technical problems that both state-run and federally facilitated individual insurance exchanges suffered on Tuesday — the first day of enrollment for the health care reform's cornerstone provision — a symptom of the long-term, nonviable nature of the marketplace system, as Republican lawmakers argue? Or were the glitches merely typical "teething problems" that should be expected to accompany the rollout of a massive government program like the Affordable Care Act, as Democrats claim?
"Like every new law, every new product rollout, there are going to be some glitches in the sign-up process along the way that we will fix," President Obama said Tuesday at a White House news conference.
Of course, the answers to those questions are deeply rooted in partisan politics, and as the marketplaces have been open for only one full day, it is also too soon to tell if the exchanges will be successful in fulfilling their intended purpose: To provide subsidized health care to millions of uninsured Americans and make coverage more affordable for many others.
What is apparent from the numbers is that the opening day of Obamacare's insurance exchanges on Tuesday drew millions of visitors who checked out the online marketplaces. New York officials reported that the state's exchange saw 2.5 million visitors in only its first half hour, while California said its state-run exchange received as many as 16,000 hits per second.
As for the 36 federally facilitated and partnership exchanges, U.S. officials recorded approximately 4.7 million visitors to the federal website, Healthcare.gov, during the first 24 hours, even though technical problems dogged its launch. To supporters of the legislation and investors, those numbers showed that if the exchange websites function adequately in the coming days and weeks, the customers will come. Obama said that the volume of visitors provided "a sense of how important this is to millions of Americans."
But on Tuesday, numerous exchanges also experienced technical difficulties. The state-run exchange in Washington gave users a "Connection Refused" error message for much of Tuesday morning; Oregon's state-run exchange told potential enrollees that "Online enrollment is coming soon!"; and technical problems caused a four-hour delay for Maryland's state-run exchange.
Colorado's state-run exchange experienced problems calculating subsidies; the District of Columbia's exchange had issues calculating subsides as well and problems determining Medicaid eligibility; and California was forced to temporarily close its website at 9 p.m. PDT on Thursday  to "help optimize performance for the millions of people expected to log in to use the enrollment function in future," state health officials there said in a statement.
Exchanges facilitated by the federal government were initially overloaded with traffic, giving visitors an error message, but by 11:30 a.m. EDT, the exchanges went live.
"Anything short of a calamity on day one is a victory," Dan Mendelson, CEO of consultancy firm Avalere Health, told Bloomberg. "It's all about message and repetition, and making sure it's accessible." The administration did note that efforts to market the exchanges will continue, but what is important is that technical issues affecting the marketplaces drop off significantly in the coming days and weeks.
The Affordable Care Act has survived severe challenges to its legality. Except for the provision that mandated each state expand Medicaid, the Supreme Court upheld the constitutionality of the law and the exchanges in a July 2012 decision. Also, health care reform has survived more than 50 votes in Congress to defund or repeal the law. Now, the biggest test before Obamacare is surviving implementation.
"What happens today is we're going to move from this policy debate about Obamacare to a reality outcome debate: What impact does it have on millions and millions of Americans, and do they judge it to be good or bad?" Republican pollster Bill McInturff told NPR. "And I believe attitudes will shift based on that reality of the outcome of Obamacare."
"If the technical issues aren't quickly fixed, they may spur a backlash," former Congressional Budget Office Director Douglas Holtz-Eakin told Bloomberg. "To have something that doesn't work after two-and-a-half years is pretty underwhelming." Holtz-Eakin now heads the American Action Forum, an advocacy group that opposes the law. U.S. Sen. Orrin Hatch, a Utah Republican, agrees. "We should have never gotten to this point," he said in a Tuesday speech on the Senate floor. "The Obama administration should have acknowledged the ample warning signs of problems in the exchanges."
Reports of technical problems continued into the exchanges' second day of operations, albeit to a smaller extent, holding up enrollment. Some states like Oregon and Colorado, plus the District of Columbia, announced that they would not be able to fully enroll all residents online in the initial weeks of enrollment. Still, government officials expect Wednesday's numbers to be high.
"We expect to see similar volume as yesterday, and while this overwhelming interest is continuing to cause wait times, there will be continuing improvements in the coming hours and days," Joanne Peters, a spokeswoman for the Department of Health and Human Services, told the Washington Post. However, health officials did not say how many people successfully enrolled.
The problem is that exchange website traffic does not necessarily translate into enrollment, which may be a function of visitors hitting technical problems, or it may be because potential enrollees were not satisfied with policies offered, or their pricing. While exact enrollee numbers have not been reported, many state-based exchanges have framed the high traffic numbers as a sign of success.
For example, Joshua Sharfstein, Maryland's health chief, said his state's exchange was a victim of its own popularity. "We had as many as 1,000 people a minute trying to create accounts," he told the Post, leading to an electronic bottleneck that had not been expected. "The silver lining is, we are certainly finding a huge amount of interest. "
Colorado officials said about 1,500 people created exchange accounts on Tuesday, while Kentucky reported 1,235 people had completed applications for insurance. California, the state with the most uninsured Americans, reported that "huge volume" of visitors created some problems. But again, that was interpreted as a good sign.
"Due to the success of the Covered California Marketplace we are experiencing higher than expected users. To make sure everyone has a great experience while on the site, we need you to come back in a little bit. We're sorry for the inconvenience and we look forward to your return in a few hours," the Covered California website said on Tuesday morning.
Follow Meghan on Twitter @MFoley_WSCS
Don't Miss: ADP: Service Sector Leads Small September Jobs Gains.