Obamacare Enrollment Glitches: Causing a Backlog and Frustration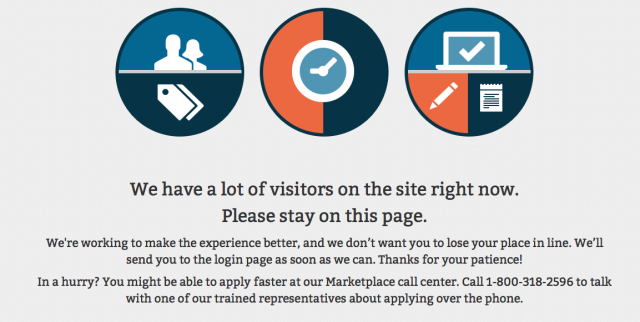 The Affordable Care Act was designed as build-on to the existing health care system, filling in the gaps left by Medicare and Medicaid. "It's a complex and somewhat ugly patch on a complex and somewhat ugly system," noted Princeton University's Uwe Reinhardt regarding the health care reform.
Republicans described the reform as a turn to socialized medicine — one that will make health care more unaffordable. Comparatively, Democrats have heralded the Affordable Care Act as the beginning of a new era. The law is neither as ambitious as Democrats had hoped, nor is it as disastrous as Republicans have argued. The reform — known popularly as Obamacare — will have different effects depending on an individual's personal characteristics — such as income or health — and on where they live.
Obamacare will raise health care costs for some Americans and lower them for others. States that chose to expand Medicaid will see a great expansion of coverage, but 44 million Americans are still expected to remain uninsured next year, according to the Congressional Budget Office. It is hard to tell how system will change over the long-term, and the four-day period the insurance exchanges — the health care reform's cornerstone provision — have been open has been too short to make an indictment of the system or to call the reform a success.
What is known is that the exchanges, especially the federally-facilitated exchanges, have suffered glitches, leaving a backlog of potential enrollees unable to access federal and state marketplace websites. In fact, the Borinquen Health Center in Florida told Reuters that only about 5 percent of around 400 people who visited the center in search of guidance during a 48-hour period could not access healthcare.gov. The high number of visitors is not the only explanation for the website's problems. Nor are the high visitors a sign the first-week enrollment numbers will be strong. "Very, very few people that we're aware of have enrolled in the federal exchange,"one anonymous insurance industry official told the Washington Post. "We are talking single digits."
But interest in Obamacare seems to be growing. Clinics and other nonprofit groups assisting with enrollment and explaining benefits have reported a high number of walk-in visitors and phone calls from potential enrollees who were having difficulties accessing the website portal for the federally-facilitated exchanges of the 36 states that chose not to create their own marketplaces. Many states have had problems as well. As a result, enrollment assistants, called navigators, have been forced to turn to paper applications to help potential enrollees to sign up.
"There have been so many issues with online enrollment because of glitches. But we've been able to take down a ton of information from people so that they can come back and complete the process as soon as the computer glitches get resolved," Andy Behrman of the Florida Association of Community Health Centers told Reuters. Officials have worked to expand capacity of the federal system in the few days the exchanges have been open, yet visitors are still encountering web pages asking them to wait.
California and Washington have undergone overnight maintenance in recent days, and many states — including California, Colorado, Maryland, Kentucky, Massachusetts, Washington, Rhode Island, and Vermont — reported no problems on Thursday.
"I'd say the experience for users right now is good," Rebecca Pearce, executive director of Maryland's exchange, told Reuters. "I'd say we're doing well." But, according to Kathleen Westcoat, chief executive of HealthCare Access Maryland, an organization offering navigators for the Baltimore region, "it's not quite where it needs to be."
While log-in numbers have been high, not many policies have actually been sold on state exchanges. Covered California, the state's exchange, initially claimed its website had received 5 million hits on October 1, but that number was later revised 87 percent lower to 645,000. San Diego's KUSI-TV even reported that not one policy had been sold on the California exchange.
Yet, Gateway to Care, a nonprofit healthcare headquartered in an impoverished district in southeast Houston, had a different story to tell. The center received a high number of calls from customers interested in learning their options. "It's really unexpected. We thought we were going to have to really beat the bushes to get people interested," the executive director, Ron Cookston, told the publication. While high call volume does not necessarily mean strong enrollment numbers, it is a sign of interest.
Comparatively, a Miami health center reported enrolling 68 people for subsidized coverage, but also turned away 24 people who could not obtain health coverage via the exchange because Florida's Republican-controlled legislature chose not to expand Medicaid. "That really, really bothers me," Behrman said.
Still, the log-in numbers to the webportal, healthcare.gov, have encouraged administration officials and supporters of the initial success of the health care reform. Of course, the key to the long-term viability of Obamacare is the number of enrollees, and not only that, but who enrolls. To function as intended, the marketplaces need a broad, healthy risk pool to keep staggering rate increases from occurring. The premiums of healthy, cheap-to-insure people cover the big bills for the relatively small number of sick people.
Follow Meghan on Twitter @MFoley_WSCS
Don't Miss: The Irony of Obamacare: Republicans Thought of It First.