Obamacare Fails to Dampen the Biggest Retirement Worries
Despite the Affordable Care Act being touted as a way to make healthcare coverage more affordable and accessible, health problems and the associated expenses now top the list of retirement worries.
There are many obstacles to the retirement process, but with life expectancy rates increasing, serious health problems top the list of biggest worries, according to a new study from Bank of America's Merrill Lynch. Seventy-two percent of those polled said health problems are the number one retirement concern, followed by "not being a burden on my family" at 60 percent. Fears of running out of money came in third at 47 percent.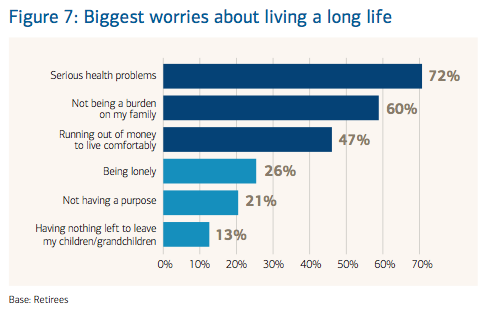 The study was completed earlier this year in partnership with Age Wave, a leader in understanding the aging population. More than 6,300 respondents aged 45 and older were polled.
With healthcare costs rising sharply across the nation, medical expenses are also a top worry for retirement. The Merrill Lynch study notes that 60 percent of bankruptcies in the U.S. are related to medical bills, and retirees battling health issues are twice as likely to say they are in a financial crisis.
Among the people polled, 37 percent said healthcare expenses were their primary retirement concern. This figure jumps to 52 percent for those with investable assets of at least $250,000 (excluding real estate). Twenty-eight percent of people said outliving their money was a top concern, with 34 percent of the affluent agreeing.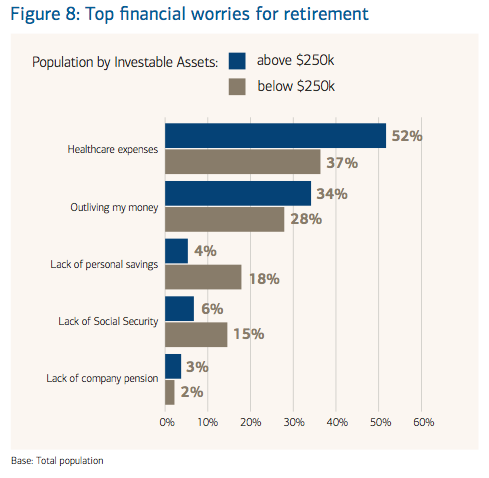 The report notes, "For many, loss of health can be the most devastating wildcard in retirement. Health problems and the cost of healthcare now top the list of retirement worries — and even moreso among the affluent. Yet just one in nine pre-retirees is completely confident in their ability to pay for their retirement healthcare expenses. In addition, though many associate early retirement with financial success, loss of health is the top reason people retire earlier than expected."
Don't Miss: How Many Companies Are Cooking the Books?