Obamacare Is Coming: Are You Prepared?
President Barack Obama set out to reform the nearly $2.6 trillion American healthcare industry during his first term, and by March 2010, the 2,409-page Affordable Care Act was signed into legislation. Its primary provision mandates that the government implement superstore-like health exchanges for individuals and for small businesses that enables both parties to buy coverage at a group rate negotiated by state regulators. In theory, this will make healthcare more affordable for a greater number of Americans and changed the healthcare system from the current fee-for-service structure towards one in which payments are based on quality of service.
Obamacare, as the legislation has been nicknamed, will also require businesses employing 50 or more workers to offer health insurance, forbid insurers from withholding coverage from those with preexisting conditions, expand Medicaid, and include measures to increase transparency.
As the president's website states: "President Obama believes that quality, affordable health insurance you can rely on is a key part of middle-class security. By putting a stop to insurance company abuses, Obamacare is giving millions of Americans peace of mind."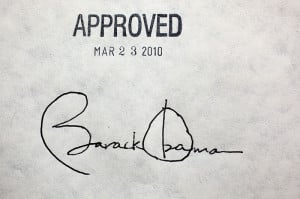 But Republican House of Representative and Senate lawmakers have tried a series of legislative gimmicks — including procedural moves, budgeting provisions, and outright legislation — to take the law off the books because Obamacare represents a great expansion of the federal government's powers. The website for the Republican Party, operating under its moniker Grand Old Party, outlined the "case against Obamacare" and its "unconstitutional mandate" in a 1,600-plus word essay posted in March 2011. The article alleged that the reform will drive up healthcare costs, increase insurance premiums, hurt the quality of health care, raise taxes, and blow up the deficit.
Others have argued, not against the sentiment behind the legislation, but against the shoddy way in which its provisions have been implemented thus far. Even members of the president's own party have spoken out against the legislation. Max Baucus — the Democratic chairman of the Senate's Finance Committee and a key architect of the healthcare reform law — told Health and Human Services Secretary Kathleen Sebelius at a late April hearing that he is concerned that the implementation of the Obama administration's signature healthcare law will be a train wreck — a phrase that has become a mainstay of Republican attacks. "I just see a huge train wreck coming down," he said. "I'm very concerned that not enough is being done so far — very concerned."
In a similar vein, Arnold Relman, a professor emeritus of medicine and of social medicine at Harvard Medical, wrote in a letter to the editor of The New York Times that "Obamacare's future will depend on its ability to control costs while providing universal care." He added, "I doubt that this can be done without major reform that eliminates private insurance and fee-for-service, and changes the way our commercially driven, fragmented medical care is now provided."
With all these arguments floating around, some hard data provides the best picture of what Obamacare means for the future.
1) How many uninsured Americans will get coverage?
According to the most recent projections made by the Congressional Budget Office, the medicaid expansion will cover an additional 13 million people by 2023 — an increase of 1 million from its February estimate — and the new government-run insurance exchanges will cover 24 million people — 1 million fewer than previously estimated. Approximately 49 million Americans are uninsured currently. Additionally, the CBO estimates that 7 million fewer people in the United States will have employment-based insurance.
Here's how the National Association of Insurance Commissioners, a group that represents the regulators who will oversee each state's insurance market, will determine eligibility for insurance subsidies or Medicaid.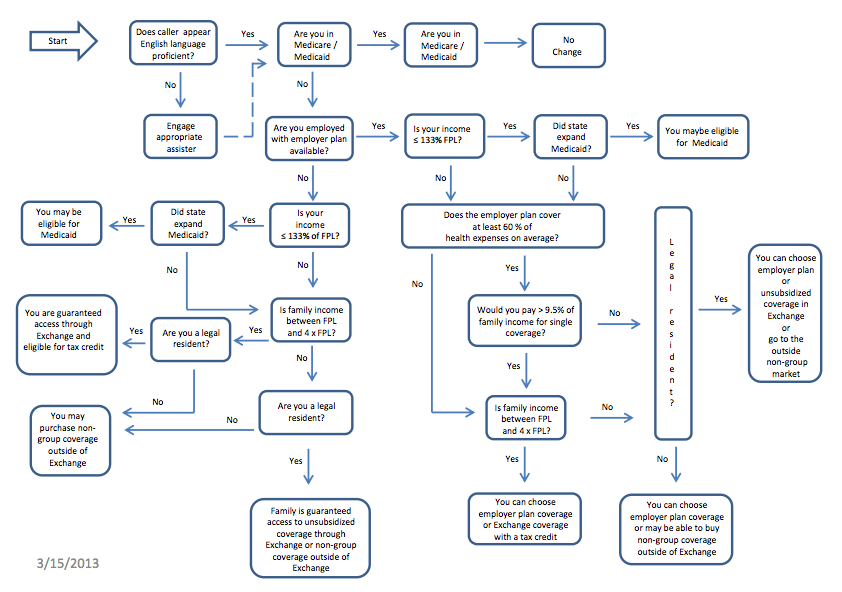 Click to make the image larger

2) How many people will see their premiums increase?
Because the Affordable Care Act will attempt to make healthcare costs more fair across the spectrum of the American population, premiums will increase for some Americans while others will see their costs drop because of federal subsidies.
Beginning on January 1, 2014, health plans will be required to cover a minimum level of benefits regardless of whether the customer wants them, women and men will be charged the same premium rate, unhealthy people will be charged the same as healthy people, and younger people will have to pay premiums closer to what older people pay. As a result, premiums will increase between 40 and 60 percent for people who had previously purchased bare-bones plans with high deductibles and meager coverage. When the health insurance exchanges open for enrollment, they will be forced to upgrade to policies that offer a minimal level of coverage.
Federal subsidies, in the form of tax credits, will be made available to individuals and families with household incomes up to 400 percent of the federal poverty level, or $95,000 for a family of four in 2013. Those who are eligible for a subsidy will be able to claim the credit in advance, rather than having to wait to file federal taxes. As the Internal Revenue Service will be responsible for tracking individuals' private health information in order to distribute tax credits to eligible individuals who purchase coverage under a qualified plan through one of the exchanges, it is one of the most important federal agencies to the implementation of the reform. In total, there are 47 different Obamacare provisions that require involvement from the IRS.
Americans who are not covered by employer-sponsored health-insurance and are considered high-wage earners will not qualify for subsidies.
3) How will Obamacare be paid for?
When President Obama first began campaigning for his healthcare legislation, he told Congress that "the plan I'm proposing will cost around $900 billion over 10 years." But the Congressional Budget Office projects that the law will cost double that amount, or about $1.8 trillion, during the first decade.
There are two methods that Congress employed to pay for Obamacare: it cut into government spending and created new provisions that raise revenue. The cuts to government spending account for $741 billion of the health law's financing, while the tax penalty for those who do not purchase coverage will generate $55 billion over the course of a decade, an excise tax on the most expensive, or "Cadillac," insurance plans will net $111 billion, and numerous other measures will supplement the spending cuts necessary to give the federal government the funds to expand insurance.
However, while the CBO's cost projections do not include an updated estimate of the effects of the law on the deficit, previous analyses have found that the law would reduce the deficit significantly over the short-term as it will curb the growth of Medicare spending and its higher taxes will more than offset the costs of expanded coverage.
4) Will Obamacare hurt business?
It has been argued, especially in the early life of the legislation, that the Affordable Care Act will have a negative effect on the economy because the costs associated with providing health insurance to employees will cut significantly into profits. But it seems like that will not be the case.
An analysis conducted by PricewaterhouseCoopers showed what the employer-sponsored insurance means for employers and for employees. According to the firm's findings, compensating workers will enable businesses to save money when they provide a combination of salary and health insurance because of the federal tax exclusions. For example, if a company provides coverage to a worker earning $52,000 per year in 2014, it will save $2,550.87 because of the tax deductibility of the insurance.
Congressional Republicans who oppose the law have argued that the new provisions will result in high premiums, making Obamacare likely to fail as the uninsured would not be able to afford coverage even with federal subsidies. Yet, states like Washington, Vermont, and especially California have finally revealed what pricing structures will look like, indicating that premiums under Obamacare will be more affordable than previously expected.
As Paul Krugman wrote in an opinion piece for The New York Times, this data was one of the law's most important test cases, and the results suggested that "the real Obamacare shock will be one of unexpected success."
California unveiled prices that consumers will pay for healthcare at the end of May. A 40-year-old Californian that makes less than four times the federal poverty level — an amount equivalent to $95,000 for a family of four or $46,0000 for an individual — would pay as little as $40 per month for a mid-level plan, which will cover about 70 percent of medical costs and 100 percent of preventative care costs. This excludes the additional costs to cover children or a spouse. The same plan for a person who makes too much to qualify for a federal subsidy will cost about $300 per month on average, the state said.
Furthermore, the total amount consumers would have to pay each year for co-payments and other out-of-pocket costs would be limited to $6,350 or less, depending on income.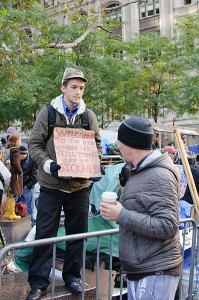 Still, many people wonder where all these premium increases, subsidy qualifications, and health-insurance exchanges will leave them. According to Krugman:
"Here's what it seems is about to happen: millions of Americans will suddenly gain health coverage, and millions more will feel much more secure knowing that such coverage is available if they lose their jobs or suffer other misfortunes. Only a relative handful of people will be hurt at all."
His statement may seem like a contradiction given the fact that several analytic firms have calculated that premiums will increases. But there is logic behind his assessment. From the patient's point of view, the problem with the current system of individual insurance coverage in the United States is that Americans who most need insurance cannot buy it, while those who can afford it, often do not need it. The healthcare reform seeks to end that dysfunction.
Therefore, because the Affordable Care Act will attempt to make healthcare costs more fair across the spectrum of the American population, premiums will increase for some Americans while others will see their costs drop because of federal subsidies. Most notably, higher-income earners, who are healthy and not covered by employer-sponsored insurance will be burdened by additional costs.
Understandably, insurance companies are not thrilled. In fact, many insurers are wary of the new system. "It's a new marketplace, a new risk pool, new regulations, and I think many of the payers have decided to just wait and see," said Milton Johnson, the chief financial officer of HCA Holdings, the largest hospital chain in the United States, in an interview with Bloomberg. "The industry is backing off," added Wedbush Securities analyst Sarah James. "They'd much rather wait and observe the environment for the first year or two."
UnitedHealth Group (NYSE:UNH) has said it will offer coverage in just a dozen states' insurance exchanges, a sign for-profit insurance providers see little gain from quickly entering the new online markets set to open for enrollment in October. Last week, the company's Chief Executive Officer Stephen Hemsley told investors at the Sanford C. Bernstein & Co. conference in New York that its plans reflect management's concern that the first wave of customers to take advantage of the exchanges will be newly insured and therefore very costly. UnitedHealth will "watch and see" how the exchanges will function, especially considering the first enrollees will have "a pent-up appetite for medical care," he said.
The possibility that the exchanges could have fewer insurance options than expected is just one of the problems that signals Obamacare's implementation will hit a few snags.
Of all the potential problems of the implementation of the healthcare reform, there is one problem that is particularly concerning: the confusion surrounding Obamacare that many recent surveys have revealed.
Government officials are currently setting up the key provision of the healthcare reform: the superstore-like health insurance exchanges, which will begin open enrollment in the fall. However, four in every ten Americans, roughly 42 percent, are unaware that the Affordable Care Act is still law, according to a poll conducted by the Kaiser Family Foundation at the beginning of the month. When asked about the status of the reform legislation, 12 percent of respondents said they believed that the law was repealed by Congress, 7 percent said it had been overturned by the Supreme Court, and 23 percent said they do not know enough about the law to give an opinion.
Even more concerning, based on the survey's results, 49 percent of the public do not have enough information about Obamacare to understand how it will impact their families.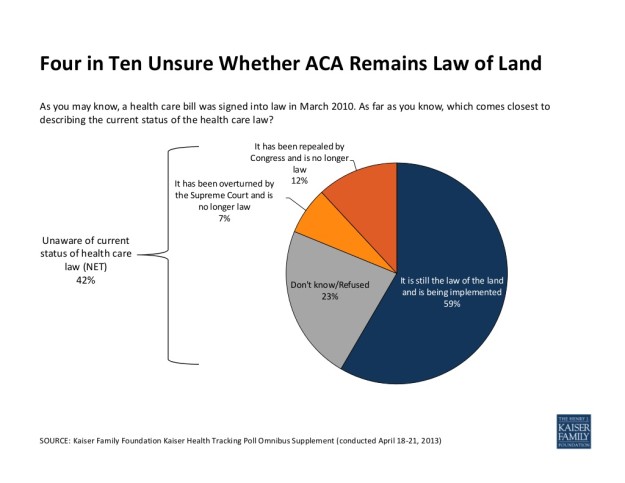 Follow Meghan on Twitter @MFoley_WSCS
Don't Miss: 5 Signs the American Consumer Is On Life Support.