Obamacare Leak: 40,000 Americans Enrolled via Healthcare.gov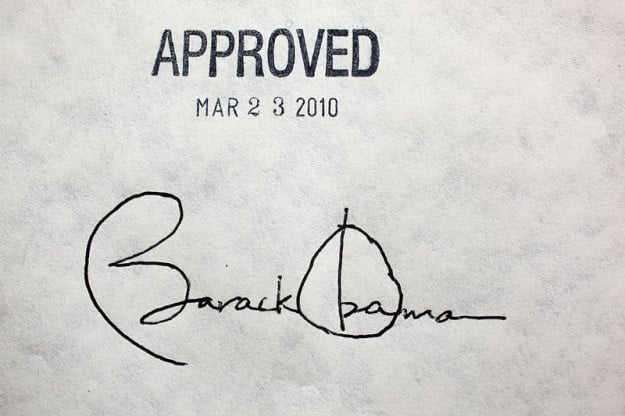 The news Republican lawmakers have been anticipating — the number of people who have enrolled in insurance plans via the online marketplaces created by the Affordable Care Act — will not officially be released by the Department of Health and Human Services until later this week. But even with the official data still locked away in a government vault, some information that congressional Republicans sought during this month's string of oversight hearings has been leaked.
One consulting company, Washington-based Avalere Health, monitored publicly available, state-based exchange enrollment figures, excluding possible Medicaid beneficiaries, to calculate the number of people who have signed up for insurance through 12 of the 15 state-run insurance exchanges.
The analysis excluded California, which has only released the number of started applications; Massachusetts, whose numbers are skewed because the state implemented a similar insurance reform in 2006; and Oregon. What Avalere found is that the District of Columbia and the remaining states that chose to set up and operate their own exchanges — rather than default to federally facilitated exchanges — saw 49,100 people enroll through November 10. That figure represents 3 percent of the 1.4 million projected to sign up in those states by the end of 2014.
"Enrollment in new [entitlement] programs begins slowly and often takes several months to build momentum," Avalere Health CEO Dan Mendelson said in a press release. "While initial enrollment has been lagging, with aggressive marketing there is still time for awareness of the program to grow and participation to begin." By comparison, the study notes that when Medicare Part D began, two-thirds of people who voluntarily enrolled in a plan did so after coverage began on January 1.
Ahead of that deadline, only 10 percent of voluntary Part D enrollees had signed up. Comparatively, exchange enrollment is expected to be lower than Part D numbers at the start because of the problems that have plagued the rollout of the Web-based application infrastructure, the Avalere study found. Many supporters of the health care reform maintain that enrollment numbers will accelerate in December
Since the Affordable Care Act was signed into law in March 2010, the Obama administration has used the implementation of a similar health care reform in Massachusetts as a bar for the nationwide rollout. It was the Massachusetts case that Centers for Medicare and Medicaid Services Administrator Marilyn Tavenner referenced during her testimony to explain why initial enrollment numbers could be lower than originally expected. The Obama administration has calculated that approximately 7 million people will enroll for coverage via the exchanges by March 31, the last day of the enrollment period. But similar to the Massachusetts rollout, the first month may be below the expected monthly average.
"We expect the initial number to be small," Tavenner said during her testimony before the House of Representative's Ways and Means Committee earlier this month. "And I think you've seen that in our projection, and that was the Massachusetts experience as well." Later in the hearing, the administrator expanded on her comments. "The Massachusetts experience was very slow initially and then it started to ramp up over time," said Tavenner. "We expect the same type of projections."
States that chose to build their own exchanges as well as those that defaulted to federally facilitated exchanges are beholden to consumer caution. The difference is the extent to which technical problems have hampered enrollments. In the early days of the six-month enrollment period, state-based exchanges had some glitches to address — for example, the District of Columbia's exchange had issues calculating subsides and problems determining Medicaid eligibility — but their problems paled in comparison to those experienced by the federal website.
Software errors and design flaws with the federal website caused hours-long wait times, prevented potential customers from creating accounts and completing the 30-step enrollment process, sent insurers the wrong information, and made it difficult for customers to receive an accurate cost estimate. The federal website links together the 36 federally facilitated exchanges, which were all designed by the government, but each state has its own risk pool and insurance market.
These glitches are one reason the government has been so slow to release its numbers. Comparatively, states operating their own exchanges have the ability to release enrollment data on their own schedules.
Still, there have been some indications of what to expect from those 36 states with federally facilitated exchanges, and they are indications that IT problems translated into enrollment problems for the Obama administration. At the vague end of the spectrum, Health and Human Services Secretary Kathleen Sebelius said during her testimony before the House Energy and Commerce earlier this month that "given our flawed launch of Healthcare.gov, [enrollments] will be a very small number."
More informative was a revelation made Tuesday morning. Through two sources with access to the figures, the Washington Post learned that only 40,000 Americans have signed up for private insurance plans through the error-riddled federal marketplace since it was launched on October 1. That tally is a very small fraction of the Obama administration's target of 500,000 enrollees for October.
Low enrollment figures mean problems for the success of the cornerstone provision of the Affordable Care Act, as insurers are counting on higher enrollment numbers to make their plans profitable. Between 5 million and 7 million individuals will need to enroll for health insurance coverage via the exchanges for the system to work, according to Ezekiel Emanuel, vice provost at the University of Pennsylvania and an architect of Obamacare, who spoke to the Post.
And by work, he means that only with that magnitude of enrollees will exchange risk pools be broad enough to support the prices insurers have set for 2014. Exchange risk pools must be broad enough to balance out the proportionally higher medical costs of the sicker and older individuals, who will likely be among the first to sign up.
If current rates are not profitable, insurers could hike premiums, which would cause more people to drop out of the system, causing a self-feeding cycle of higher premiums and fewer enrollments. Alternatively, insurers could leave the exchanges, decreasing the competition needed to keep policy prices low. Either way, insurance offered on the exchanges could become less affordable, thereby undermining the success of the reform.
Of course, more important to Obamacare's success than absolute numbers is who the exchange enrollees are and where they sign up. "All of this is very state-specific on how it plays out," Edwin Park, vice president for health policy at the Center on Budget and Policy Priorities, told The Atlantic. Even though the exchanges of 36 states are operated by the federal government and dependent on the same website, each state does have its own insurance market and its own risk pool.
Follow Meghan on Twitter @MFoley_WSCS
Don't Miss: Political Brinkmanship and Obamacare Hinder Small Businesses.