Obamacare's New Deadline Means More Enrollment Uncertainty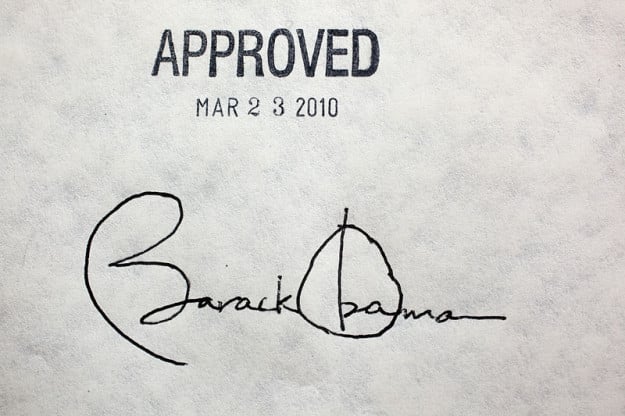 Once again, the deadline for Americans to purchase Affordable Care Act-compliant health insurance beginning coverage on January 1 has been pushed back. With exemptions to that rule flowing from the White House and signs of flexibility from both state-run exchanges and insurers, the postponement is not all that surprising.
Monday, December 23 was original date, but the sign up cutoff was extended by just one day by the Obama administration in case of heavy demand on the government website, the Associated Press reported. Julie Bataille, a spokeswoman for the Centers for Medicare & Medicaid Services, told the publication that the grace period was meant to accommodate insurance customers from different time zones and to handle potential technical problems. That deadline has been extended once before; administration officials pushed back the enrollment time line after Obamacare's cornerstone provision — the online insurance marketplaces — launched on October 1 to numerous software errors and design flaws that caused hours-long wait times, prevented potential customers from creating accounts and completing the 30-step enrollment process, sent insurers the wrong information, and made it difficult for customers to get an accurate cost estimate.
Fixes have been made and, as President Barack Obama said in his pre-holiday press conference Friday, "the basic structure of that law is working despite all the problems," but still many critics of the Affordable Care Act had described December 23 — and now December 24 — as yet another watershed moment for the health care reform. At issue, as always, are the number of enrollments; the Monday deadline was supposed to show the viability of the insurance exchange system. So far, half a million people purchased health insurance via the federal and state insurance exchanges in the first three weeks of December and more than a million have signed up for private coverage since October 1, as the president said in his press conference, showing that enrollments have gained momentum as the deadline approached.
Yet, despite the improving enrollment figures, many uncertainties remain. Those uncertainties are intimately linked to the vast array of deadlines across the state and federal exchanges, which prevent experts from determining how many customers may have no insurance coverage during periods of 2014 because they failed to enroll via the exchanges by Tuesday. The second postponement of the deadline — which was originally set for December 15 — has added to the confusion.
In order to accommodate those insurance customers who could not complete the enrollment process due the federal website's technical problems, the federal government, state governments, and insurers have been changing dates. As a result, confusion among consumers has grown, giving Republican critics of the law another point of attack. "With no clarity as to when people should sign up and who they should pay and when, it's a virtual certainty that many consumers will find themselves uncovered for a period of time through no fault of their own," Republican Senator Orrin Hatch of Utah said last week.
Officially, customers must enroll and select a plan by the end of the day on Monday and pay the first month's premium by December 31 for coverage to begin on New Year's Day. But then there are the exemptions and extensions to consider.
Even Federal officials hinted that the deadline could be pushed back, announcing recently that individuals who attempt to enroll but encounter problems with the healthcare website will be able to qualify for a special enrollment period and gain coverage as soon as possible. That was to be known as a "good faith exemption," as a senior Obama administration official told Reuters. "We'll have a special enrollment period," the official said last week, for "all those who make a good faith effort to get enrolled by the deadline" but fail. The official also noted that the administration had reserved the right to change the deadline once more "should exceptional circumstances pose barriers to consumers" enrolling on Monday. While no exceptional circumstances were noted by Bataille, the deadline is now Tuesday.
Plus, the federal government was "encouraging" insurance providers to allow enrollees who missed the December 23 deadline to still be eligible for coverage beginning January 1, even if they sign up in January. America's Health Insurance Plans, the insurance industry's largest trade group, said last week that anyone who pays the first month's premium by January 10 will receive retroactive coverage to the start of the year.
The 14 state-run exchanges have slightly different sets of deadlines. For example, in Minnesota, residents have until December 31 to pick an insurance plan for coverage that will begin the next day, and they must pay for that coverage by January 10. In Rhode Island, coverage must be purchased by December 31, but they must pay the first month's premium by January 6. Washington residents who attempt to enroll by Monday but are stymied by technical problems will have until January 15 to choose and pay for a plan. States like Oregon and Maryland have pushed back the deadline to pick a policy to December 27.
For those Americans eligible for the recently announced "hardship" exemption, the deadline has little meaning. That last-minute adjustment to the healthcare law waived the Affordable Care Act's individual mandate for those people whose individual health insurance policy was canceled by the provider. While the law requires most Americans to purchase qualifying health insurance beginning in 2014 or pay a tax penalty, there are exemptions. Those individuals for whom qualifying coverage would cost more than 8 percent of household income qualify for an exemption, as do those who can prove a hardship such as homelessness, bankruptcy, domestic violence, large medical debts, a utility shutoff notice, or a death in the family. A new guidance issued last Thursday by the Centers for Medicare and Medicaid Services stated that having a cancelled insurance policy now qualifies individuals for the hardship exemption.
More From Wall St. Cheat Sheet:
Follow Meghan on Twitter @MFoley_WSCS