Obama's Bargain: Better or a Torpedo Target for the GOP?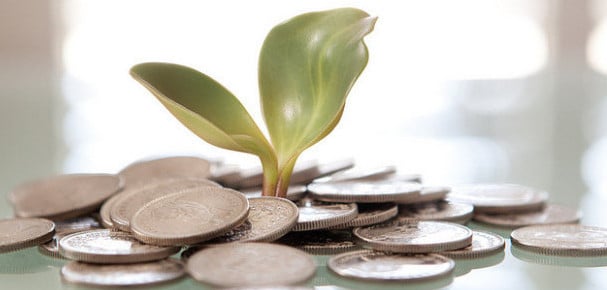 "If we're going to break free of the same old arguments where I propose an idea and Republicans say no just because it's my idea, let me try offering something that serious people in both parties should be able to support," President Barack Obama said Tuesday, when he took the stage at an Amazon (NASDAQ:AMZN) fulfillment center in Chattanooga, Illinois, to deliver the second in a series of speeches aimed at addressing the problems facing America's middle class. "A deal that simplifies the tax code for our businesses and creates good jobs with good wages for the middle-class folks who work at those businesses."
Obama's offer was widely expected after comments made by senior advisers made their way through the media earlier on Tuesday. Initial GOP reaction to the president's plan was negative. While the bargain was the first tangible proposal to come from the most recent round of speeches, it didn't represent what most Republicans would call a bargain.
Simplifying the tax code
The administration broke down Obama's tax proposal into four broad points: ending incentives for corporations to move jobs overseas, lower the tax rates for businesses that create jobs within the U.S., provide increased tax incentives for manufacturers, and cut taxes for small businesses.
Specifically, the President's plan would reduce the corporate tax rate from 35 percent to 28 percent and reduce the tax rate on manufacturers even further, to 25 percent. By closing loopholes alongside these changes, the plan is ostensibly revenue-neutral. However, the proposal provisions "one-time funds raised as we transition to a new tax system to support new investments."
New investments
The heart of Obama's investment program — again, ostensibly funded by a windfall from closing tax loopholes — is job creation and infrastructure investment. The overall investment plan seems to be an aggregate of several smaller programs like "fix-it-first," a $50 billion infrastructure program; the Rebuild America Partnership, a plan to partner federal, state, and local governments with businesses and private capital in order to move forward on infrastructure projects; and America Fast Forward Bonds, a program building on the framework of the Build America Bonds project and aimed at raising capital to invest in public infrastructure.
Perhaps most controversially, the president's investment plan includes an increase of the minimum wage from the current federal minimum of $7.25 per hour to $9 per hour and indexing it to inflation.
Middle-class jobs
The president's economic message is focused on the health of the middle class. In his first speech of the series, at Knox College last week, Obama described the engine of economic growth in the U.S. (i.e. the middle class)  as having "stalled." While the slow growth of the post-crisis period certainly demonstrates this, there's more: the middle class hasn't just stalled — it could be shrinking.
Income inequality is a growing problem in America, and it has been a defining characteristic of the post-crisis economic recovery. The National Employment Law Project showed that while low-wage occupations accounted for 21 percent of recession-era job losses, they accounted for 58 percent of recovery job gains. And while mid-wage occupations accounted for 60 percent of recession losses, they accounted for just 22 percent of recovery growth.
What this means is that post-recession job growth is characterized by Americans taking lower-paying jobs, moving out of the middle class and into the lower class. Low-wage industries like food services, retail, administrative support, and waste management services constituted 43 percent of net job growth during the recovery. Within these industries, 76 percent of job growth occurred at the low end of the wage scale.
If inequality is defined by a shrinking middle class and growth at opposite ends of the spectrum, then the past decade can certainly be defined as inequality. Since the first quarter of 2011, employment has grown by 8.7 percent in lower-wage occupations and by 6.6 percent in higher-wage occupations. Meanwhile, employment in mid-wage occupations has fallen by 7.3 percent.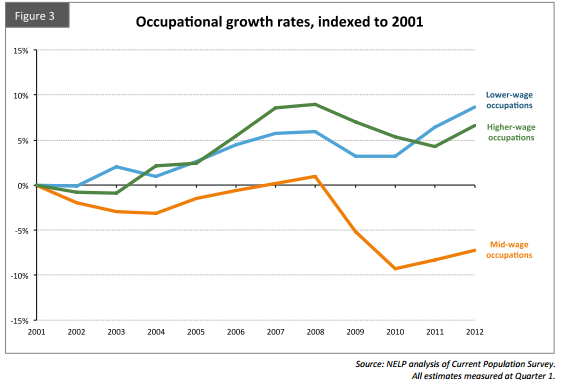 Don't Miss: History and Warren Buffett Say Cash Is a Terrible Investment.