Office Depot Boosts Its School Anti-Bullying Program and 2 More Heavily Traded Stocks to Follow
Office Depot Inc. (NYSE:ODP): Current price $4.64
The Office Depot Foundation the independent, nonprofit philanthropic division of Office Depot, Inc. invites middle schools spanning the United States to take part in the Foundation's new "Be The Difference. Speak Up Against Bullying!" Program. The program centers upon school assemblies for students, along with anti-bullying education sessions for parents, teachers, and administrators conducted by the nationally known speaker Brooks Gibbs. The latter, who is a youth crisis counselor and bullying expert, has spoken to over one million students about bullying during the past decade.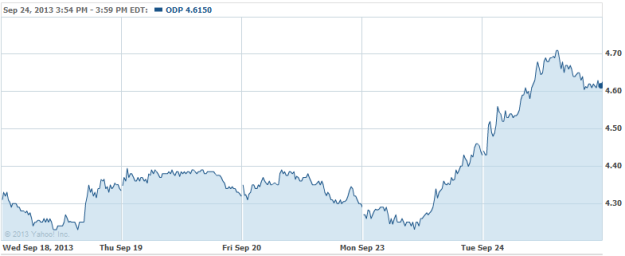 Molycorp Inc. (NYSE:MCP): Current price $7.30
The Law Office of Brodsky & Smith, LLC announces that a class action lawsuit has been filed in the United States District Court for the Southern District of New York on behalf of all investors who purchased or otherwise acquired Molycorp shares between August 2, 2012 and August 7, 2013, inclusive. The complaint claims that the defendants breached the Securities Act of 1934 by failing to disclose during the Class Period that the company's reported inventory was materially understated, and that it had materially overstated its income tax benefit in the first quarter of 2013.
This alleged act resulted in a cumulative overstatement of costs of sales and understatement of current inventory of around $16.0 million, and income tax benefit in the first quarter of 2013 to be overstated by roughly $6.5 million.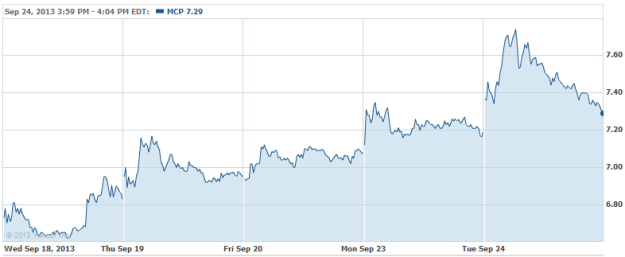 Wells Fargo & Co. (NYSE:WFC): Current price $41.75
Wells Fargo persuaded United States District Judge Jesse M. Furman in New York Tuesday to turn aside some claims against it in a lawsuit brought by the federal government accusing the lender of home mortgage fraud because they were filed too late. In 2012, the U.S. sued the bank, alleging that it made reckless loans that caused losses for a federal insurance program when borrowers defaulted, seeking hundreds of millions of dollars in damages.
Furman ruled that while the federal government's statutory claims against the lender could stand, any legal injury claims based on events that occurred before June 2009 were too late to be actionable. Besides that, he also dismissed mistake-of-fact and unjust enrichment claims.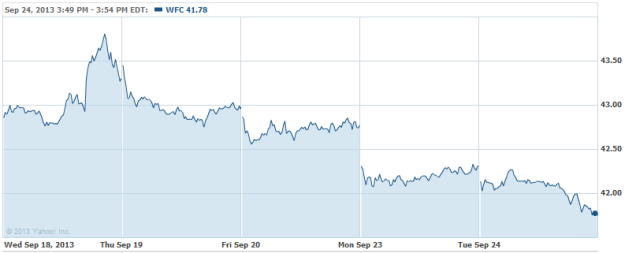 Don't Miss: These Downbeat Fed Speeches Subdued Stocks.