Office Depot Jumps on Thanksgiving Opening Bandwagon and 2 Other Hot Stocks to Watch
Office Depot Inc. (NYSE:ODP): Current price $5.14
Office Depot said Monday that for the first time it will extend its holiday hours. Most of its retail stores will be open from 8 p.m. to 11 p.m. local time on Thanksgiving Day, and reopen at 8 a.m. local time on Black Friday. Customers will be able to shop deals and perks both in retail stores and also online, since Black Friday deals will be available on OfficeDepot.com all day November 28 starting at midnight Eastern Time, according to the company.
Xerox Corp. (NYSE:XRX): Current price $10.30
Businesses want to improve their management of an influx of documents and data, and Xerox is responding with new tools with which to print for less while facilitating how work gets done in a secure and sustainable manner, the company said. President of Large Enterprise Operations Mike Feldman said in a statement: "Work is no longer a physical place. It happens anytime, anywhere — causing both challenges and opportunities. Our next generation of managed print services helps clients take control of information while managing everyday concerns such as productivity, mobility, security and  sustainability."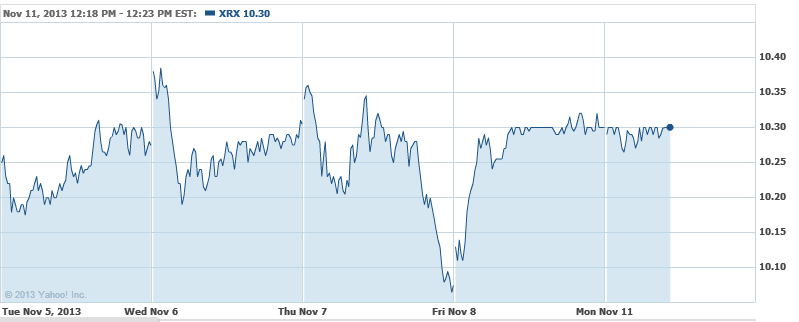 Denbury Resources Inc. (NYSE:DNR): Current price $18.21
Denbury Resources said its senior management will review a number of key developments at its annual analyst day being held Tuesday. Topics will feature the intention to initiate regular quarterly dividends to common shareholders beginning in the first quarter of next year, the appointment of John P. Dielwart to the board, 2014 production and capital expenditure estimates, and an increase in the amount authorized under Denbury's share buyback program. Shares are down by more than 5.5 percent Monday in heavy trading.

Don't Miss: No Rest for the Wicked: Amazon and USPS to Begin Deliveries on Sundays.