Oh, Canada: Target Misses the Mark with Q3 Earnings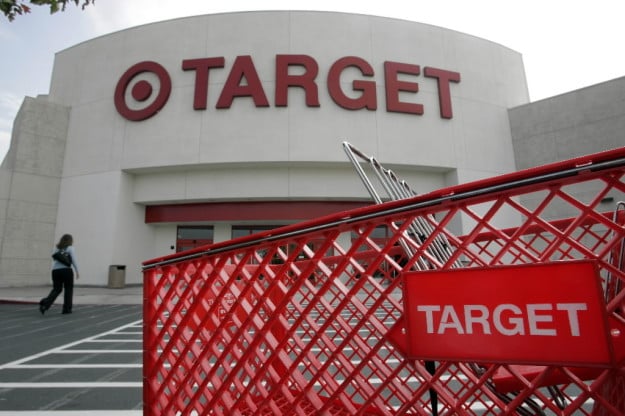 Target (NYSE:TGT) shares were falling Thursday after the retailer released its fiscal third-quarter earnings and investors were forced to weigh a falling earnings figure and lowered outlook. The company's third-quarter profit sunk 46 percent year over year, reflecting a bigger-than-expected loss in Canada, and executives also cut the company's earnings guidance for the year, now expecting $4.59 to $4.69 per share, down from an initial expected range of $4.70 to $4.90.
Target earned $341 million, or 54 cents per share, in the fiscal third quarter that ended November 2, a 46.7 percent year-over-year loss; in 2012, the company reported earnings of $637 million, or 96 cents per share. The Minneapolis-based retailer also missed analyst expectations, reporting that comparable sales only rose 0.9 percent in the U.S., rather then 1.3 percent, blaming the struggling retail environment for flattened demand.

Target isn't the only U.S. retailer struggling with underwhelming sales — rival Wal-Mart Stores (NYSE:WMT) also recently posted poorer-than-expected earnings. Both companies have worked to boost sales amid increasing competition and a sluggish economy, but Target still expected greater demand from its consumers north of the border, and those expectations were not met.
Despite the retailer opening 23 new stores in Canada in the third quarter, the operations generated sales of $333 million and a gross margin rate of 14.8 percent, fueled by efforts to clear excess inventory. This resulted in a loss for the segment before interest and taxes of $238 million. The retailer still expects to open a total of 124 stores in the country this year.
Back on the home front, sales improved 2 percent to $16.9 billion, and although the number of transactions declined 1.3 percent, the average transaction amounts rose 2.2 percent on account of higher prices. Undeterred by investor pessimism, Chief Executive Gregg Steinhafel was confident about his company's third-quarter results following the release. He maintained that the figures reflect "continued strong execution in our U.S. segment in an environment where consumer spending remains constrained."
Janney analyst David Strasser didn't share Steinhafel's optimism, and MarketWatch reports that he wrote in a note to investors on Thursday: "It became clearer that Canada was on a slower trajectory to profitability than we had anticipated. The weakness in the U.S. business is a result of Target's unwillingness to address sales concerns in an attempt to maintain profitability."
Target will now need to close the book on its third-quarter earnings and prepare for the lucrative holiday shopping season that is especially important to retailers this year even though industry researchers believe the sales rise won't be as significant. Target has already leaked a number of tricks it has up its sleeve this season, including better-advertised prices on holiday commercials and price-match guarantees, but rivals like Wal-Mart and Best Buy (NYSE:BBY) are already doing the same.
Target plans to open its doors at 8 p.m. on Thanksgiving night and offer deals on turkey day for the first time ever. However, it is still up to consumers to decide whether they will live up to warnings of constrained spending this year or throw caution to the wind and help support Target and other stores. The retailer's shares were down 3.55 percent at $64.13 as of 11:30 a.m. Eastern on Thursday.
Don't Miss: 5 Things to Watch for in 'The Hunger Games: Catching Fire'.