Oil Breaks $100 and Continues to Outperform Equities
On Wednesday, oil prices hit $100 per barrel for the first time in nearly four months.  Since dipping to under $76 per barrel in early October, West Texas Intermediate prices have increased more than 30%.  Crude oil prices and equities had moved together in the past few months.  However, crude oil continues to outperform equities.
According to EIA data, crude oil and the S&P 500 Index have had a positive correlation in 12 of the past 13 quarters.  While WTI prices have gained more than 30% since the beginning of October, the S&P 500 has only increased about 13%.  Despite the European debt debacle, China slowdown fears, and a weak US consumer, the demand continues to be strong for oil.  By the end of next year, the EIA forecasts world crude oil and liquid fuel consumption will total nearly 90 million barrels per day.  "Inventories are falling and the physical market is very tight, we see oil trading in a sideways range," Andy Sommer at EGL in Dietikon, Switzerland, said.  On Wednesday, the EIA reported that crude oil inventories fell by 1.1 million barrels last week.  Bank of America also recently explained that crude oil inventories in the US are at the lowest seasonal level in seven years, and predicts oil climbing higher to $105.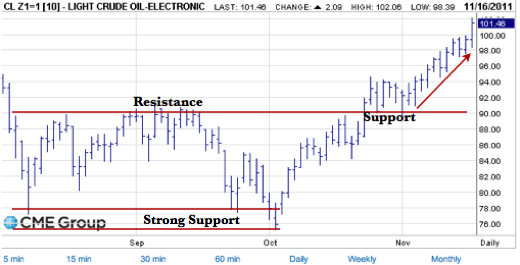 As the chart above shows, the technicals for crude oil remain positive.  After meeting resistance at $90 in September, oil prices fell to bottom near $76.  Once oil broke through prior resistance in late October, the $90 price level acted as support.  Even more impressive, oil continues to march higher in November as the US dollar gains strength from the euro mess.  The recent strength in oil prices have also placed the oil market in backwardation.  Forbes explains, "WTI prices have remained in backwardation since shifting from three years of contango in late October. Contango means that the price of commodity contracts expiring in the near term is lower than the forward, future price of crude contracts. Backwardation is the opposite: The price of a commodity today is higher than the future purchase price."  In the short-term, this is bullish for oil.
In our premium newsletter, we warned in September that "investors should consider getting back into oil if it holds and stabilizes at $75."  Looking at several technical indicators and global macro trends, we determined this to be a critical price point.  As it turned out, oil held $75 and rebounded to eventually climb above $102 on Wednesday.  While big oil names like Exxon Mobil and Chevron may suit long-term dividend minded investors, we prefer to play the current shrinking spread between WTI and Brent by other means.  For investors seeking more detailed professional analysis on oil and other commodities, we invite you to try our premium service free for 14 days.