Oil Price Declines May Continue Into 2014
Recently, the Energy Information Administration released its weekly reports on the status of various liquid fuels in the United States, covering the week that ended November 29. The reports cover natural gas and petroleum, presenting data about the production, storage, and prices of the fuels. Changes in the data can reflect natural variations, seasonal trends, long-term market effects, and current events in regions of the globe where liquid fuels are produced, processed, and sold. This week was highlighted by fears over energy price declines that could continue well into 2014.
Working natural gas in storage — the volume readily available to the market — decreased by 162 billion cubic feet in the week ended November 29 to 3,614 Bcf, according to EIA estimates. This is down by 200 Bcf from the same period last year, and slightly below the five-year historical average. As of Thursday, futures traded at $3.960/mmBTU, up more than 42 cents on the year and nearing the $4 to $6 range within which producers can both earn a profit remain and compete with alternative fuels such as coal.
The data show a trend has developed over the past few years. Inventories have been on the rise as domestic production increases, largely thanks to advances in horizontal drilling and hydraulic fracturing technology. These advances have contributed to a revolution in energy production in the U.S. and producers are rapidly helping make the dream of energy independence come true. Domestic production supplied the U.S. with 84 percent of its total energy needs in 2012, the highest level since 1991. The EIA estimates that the U.S. could become a net exporter of natural gas as early as 2020, assuming regulatory hurdles can be overcome.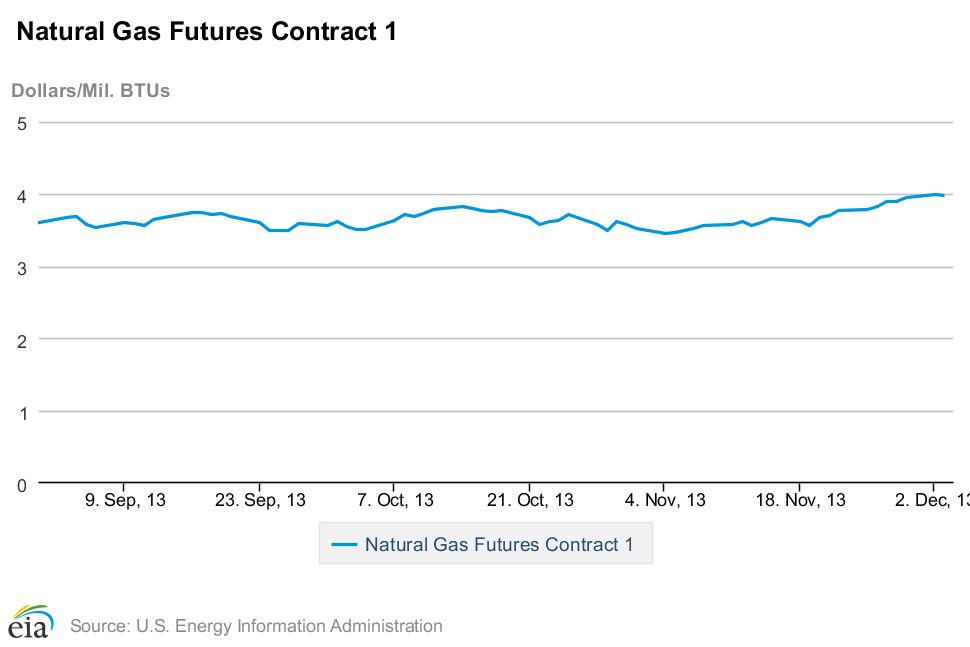 U.S. crude oil refinery inputs averaged about 16.1 million barrels per day during the week ending November 29, 2013, with refineries operating at 92.4 percent capacity. U.S. commercial crude oil inventories (excluding those in the Strategic Petroleum Reserve) decreased by 5.6 million barrels from the previous week. At 365.8 million barrels, U.S. crude oil inventories are near the upper limit of the average range for this time of year.
WTI — a grade of crude oil used as a benchmark in oil pricing — was $92.55 per barrel, $1.98 less than last week's price but $4.01 more than a year ago. Oil prices have been dropping as winter approaches, in a trend that is usually reflective of seasonal factors. However, many believe that increased American fuel production will signal a longer-term decline in oil prices that could pose a threat to producers in the Middle East.
In voting to keep production levels constant despite forecasts for increased demand from Asian countries, OPEC has reflected those concerns, even if the group has not been vocal about their worries.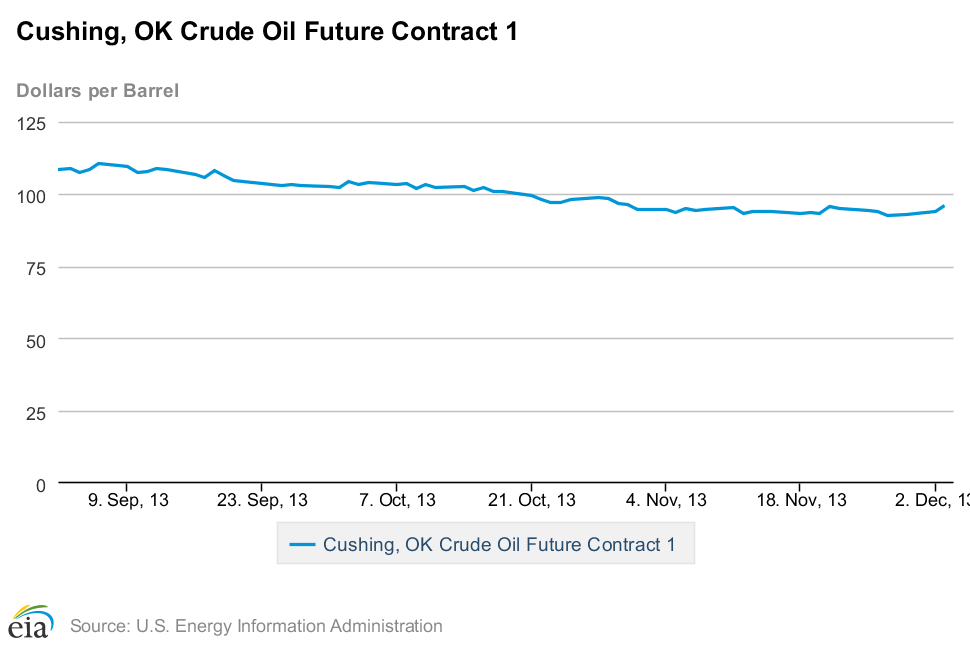 As the EIA put it, "All else equal, changes in gasoline prices follow changes in crude prices." For the week ended December 2, the average retail price of a gallon of gasoline in the U.S. was $3.272. This is down 12 cents from the year-ago period, and down a couple cents from the previous week. It is also down from the summer-to-date peak of $3.68, which was hit on July 22.
Earlier in August, the EIA projected that oil and gas prices would decline throughout 2014 — with regular gasoline approaching $3.00 per gallon by the end of the year. Thanks to increased production in the U.S. and other non-OPEC countries, prices could very well still continue to decline well into 2014.
Don't Miss: Sanctions on Iran Leave OPEC's Production Balance Uncertain.