Oil Prices Surge On Iranian Rumors
Oil prices (NYSEARCA:USO) increased the most in nearly four weeks as supply worries surfaced.  An Iranian politician said the country's military would conduct trial runs of shutting down the Straits of Hormuz, the Persian Gulf bottleneck for about one-third of the world's seaborne oil trade.  Prices eased after Iran's Foreign Ministry confirmed the Strait remained open, and as OPEC increased its 2012 demand forecast by 100,000 barrels per day to 1.1 million daily barrels given a cooling global economy.  "Economic turbulence is shaking oil demand as the slowdown hits manufacturing activities worldwide," OPEC said.
Investing Insights: Oil ETFs: The Top 10 Exchange Traded Funds for Your Oil Investing List.
Tensions have been building over information on Iran's nuclear program.  More recently, Iran captured a CIA RQ-170 Sentinel spy drone about 140 miles inside of Iran.  President Obama has asked for the spy drone to be returned to the United States, but Iranian officials have declined to do so.  "It seems that (Obama) has forgotten that our air space was violated, a spying operation conducted and international law trampled," Foreign Ministry spokesman Ramin Mehmanparast told a news conference.  "The U.S. spy drone is the property of Islamic Republic of Iran. Tehran will decide what it wants to do in this regard," added Defense Minister Ahmad Vahidi.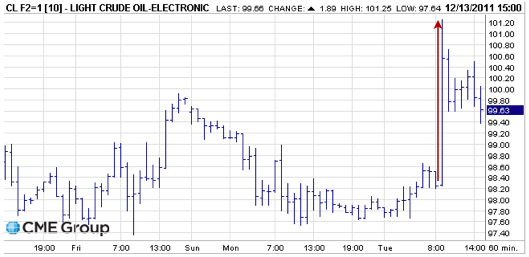 As the chart above shows, even though the Straits of Hormuz remained open, oil prices closed higher on the day.  Light sweet crude oil futures closed more than $2 higher, and reached as high as $101.25 before settling near $100.  Oil investments such as the iPath S&P GSCI Crude Oil ETN (NYSE:OIL) increased 1.84%, while Chevron Corp. (NYSE:CVX) closed .53% higher.
Don't Miss: OPEC Boosts Supply as Libyan Output Rebounds.
Libya, Saudi Arabia, Angola, and Nigeria upped their crude production in November, more than offsetting cuts in supply from Algeria, Venezuela, and the United Arab Emirates.  The 11 members of the Organization of Petroleum Exporting Countries bound by quotas produced 27.687 million barrels a day in November — up 1.8% from 27.187 million barrels in October.  Saudi Arabia increased output in November by 1.9% to 9.597 million barrels a day. Libya increased output by 64% to 570,000 barrels a day as the country resumed production after a civil war decommissioned many oil facilities and temporarily ended oil exports.
Despite the downgraded outlook by OPEC, Citi's (NYSE:C) analysts expect global oil demand to be about 90.3 million barrels per day.  Analysts also expect Brent oprices to average $110 per barrel, and for WTI to average around $100 for 2012.  Forbes explains, "The reversal of the Seaway Pipeline, recently sold by Conoco Phillips (NYSE:COP) to Enbridge (NYSE:ENB) will provide further support for WTI prices, as the bottleneck at Cushing, Oklahoma is eased and crude begins to flow into refineries owned by Exxon Mobil (NYSE:XOM), BP (NYSE:BP), Marathon Petroleum (NYSE:MRO), Valero Energy (NYSE:VLO), and others."
Don't Miss: Global Factors Hitting Gold and Silver.