Oklahoma City Tornado Damage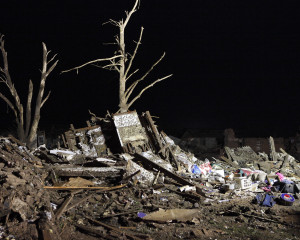 Oklahoma is still reeling from the newest tornado that hit Friday and left flooding in its wake. The storms severely affected Oklahoma City on Friday, leaving at least nine dead, including two children. More than a hundred more were injured, many of whom were treated for cuts or piercings.
Officials continue to assess the damage on Saturday though, so the number of injuries could still rise. According to a spokeswoman for the state medical examiner, most of the fatalities occurred in the Western suburbs of Oklahoma, including Yukon, El Reno, and Union City, according to the LA Times. One official was not sure how many of the injuries were critical, reported the LA Times.
On Saturday, more than 98,000 people in the state's capital were without power, and there were more than 100,000 across the state who were still without power. Severe flooding has also been a major issue in the wake of the storm, and it has hampered recovery efforts even though the tornado was not as bad as the one that hit Moore earlier in the month. Flood waters in Oklahoma City reached four feet on Saturday and are expected to get higher.
Although damage from the storm is still being assessed, some highways are closed in Oklahoma as a result of downed power lines. Additionally, as of Saturday afternoon, the Oklahoma Corporation Commission reported at least 91,800 power outages due to the storms.
The storm even touched down on Interstate 40 for a couple of miles, leaving twisted and broken billboard and debris in its wake. Although businesses had closed early to prevent a repeat of the disaster in Moore, the highways were still packed with motorists trying to get home during the tornado.
The previous storms in Oklahoma has also impacted recovery efforts.This latest storm came on the heels of another tornado that tore through Oklahoma leaving two dozen dead and dozens more injured. Department of Emergency Management spokeswoman Keli Cain said that "There's been pretty much nonstop weather of some kind for the past two weeks so that's definitely impacted the recovery efforts."
The United States gets about 1,200 tornadoes a year, but most of them are very small. Additionally, the tornado season usually starts in March, but it was postponed to May this year because of the weather.
Don't Miss: Income and Spending Decline: Is the Recovery Neglecting Main Street?
More Stories Recommended for You: