Old National Bancorp Crushes Q4 Estimates and 3 Hot Stocks Moving Today
PowerWave Technologies Inc (NASDAQ:PWAV): Current Price $0.07
PowerWave Technologies Inc (NASDAQ:PWAV), which makes antennas and amplifiers for wireless communications, filed for Chapter 11 bankruptcy protection today after it lost money in four out of the past five years. The company reported assets of $213 million and debt of $396 million, and its board said in the petition that bankruptcy was "in the best interest of the company, its creditors and other parties."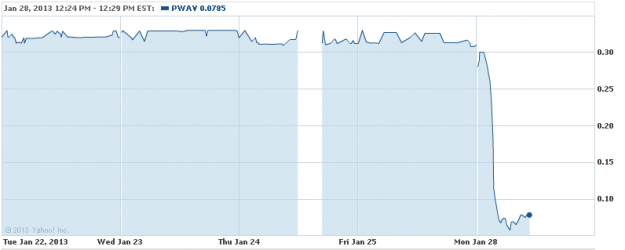 Ford Motor Company (NYSE:F): Current Price $13.75
Ford Motor Company (NYSE:F), Daimler AG and the Renault-Nissan Alliance proposed to invest equally in a joint-venture that will develop fuel cell vehicle systems that could make their appearance in on-road cars by 2017. Fuel cell driven electric vehicles derived electricity from hydrogen and oxygen and release no pollution. Car manufacturers are increasingly resorting to such tieups to spread the cash outlay as well as the risk considering the collapse in auto sales across Europe and the resulting stress on their cash flows. The three joint-venture participants propose to develop a common fuel-cell stack and fuel-cell system which can however be used by each company in their own-developed and branded fuel cell electric vehicles.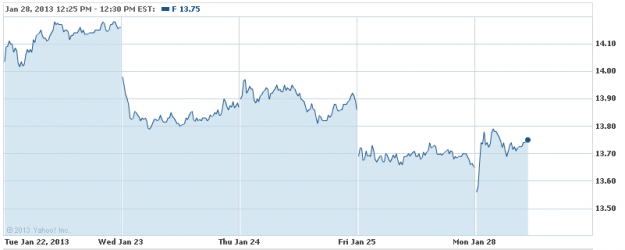 Are these stocks a buy or sell? Let us help you decide. Check out our Stock Picker Newsletter now.
Berkshire Hathaway (NYSE:BRKA): Current Price $146,788.00
According to Reuters, Warren Buffett's Berkshire Hathaway (NYSE:BRKA) was a competing bidder in the moves to acquire NYSE Euronext last November, but was outbid by Intercontinental Exchange Inc (NYSE:ICE). According to sources, NYSE's bankers approached Berkshire on November 25, who presented an offer on November 28 which was lower than that of ICE and conditional upon a sale of NYSE's European derivatives business for a certain minimum price.

Old National Bancorp (NYSE:ONB): Current Price $13.17
Old National Bancorp (NYSE:ONB) declares fourth quarter EPS of $0.23 which is in line with consensus, while revenue of $139.1 million beats expectations by $14.2 million. Quarterly net income was $23 million, compared to $22.2 million in the year ago quarter. The Board of Directors recently increased the common stock dividend to $0.10 per share.Bob Jones, Old National's President and CEO stated, "Producing the highest net income seen by the Company in a decade clearly demonstrates the success of our recent acquisitions and the importance of organic loan growth while maintaining a watchful eye on credit and expenses."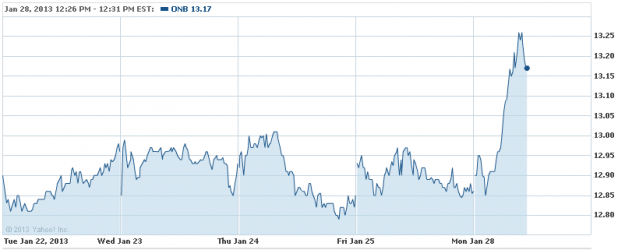 Don't Miss: The Fed's Balance Sheet: $1 Trillion…$2 Trillion…$3 Trillion…