On Road to Recovery, States Hitchhike on Moody's Upgrade
In 2008, at the height of the crisis, the financial condition of state-level governments in the United States began to rapidly deteriorate. Revenues — mostly in the form of tax receipts — evaporated as unemployment surged. States tapped reserves, reached out for federal support, and increased taxes. Contributions to already underfunded pensions declined even further, increasing the overall liabilities of state governments.
Five years ago, all this bad news prompted Moody's Investors Service to downgrade the financial outlook for state governments in the U.S. from stable to negative. At the time, real gross domestic product growth in the U.S. had turned negative, and economic activity would contract for six consecutive quarters between September 2009 and December 2009. Unemployment would peak at 10 percent in October that year, shortly after the U.S. returned to a path of modest economic growth.
But even as the recession came to a technical end, growth remained anemic and uneven. Some states, like those participating in the shale gas and oil boom, have bounced back much more quickly than others. North and South Dakota have unemployment rates of 3.0 and 3.9 percent, respectively.
However, five years after the downgrade, Moody's has re-evaluated the outlook for state governments in the U.S. and determined that, as a whole, the outlook is now stable. A majority of states — 30 out of 50 — have a credit rating of either Aaa or Aa1, the highest possible.
"Improving labor and housing markets have boosted consumer confidence, and strong stock market performance has further improved state revenues," Moody's Vice President Baye Larsen said in a press release. "Additionally, now that the scope of federal cuts is better understood, there is less uncertainty regarding the pace of continued economic recovery."
Moody's also recently changed its outlook on U.S. government bonds from negative to stable, citing a decline in the uncertainty caused by budget negotiations, a shrinking deficit, and a healing economy. The Congressional Budget Office has estimated that the deficit will shrink to 4 percent of GDP in 2013, down dramatically from 7 percent in 2012, and will fall even further to 3.4 percent in 2014. America's outstanding debt problem was one of the primary factors that caused the downgrade in the first place.
The government reaching, breaching, and re-establishing its own spending limit is hardly a new phenomenon. We did it in 2010 with a total debt burden of $14.3 trillion, largely a product of wars in the Middle East and post-crisis stimulus spending. Congress raised the ceiling by $900 billion to $15.2 trillion, but we hit that in 2011, at which time $1.2 trillion was added to fund operations while policymakers negotiated the fiscal cliff.
Between the last-minute half-deal that was the fiscal cliff tax deal and the awkward rollout of the sequestration, America managed to hit its federal debt limit again, at $16.4 trillion, at the end of 2012. The ceiling was temporarily suspended and later increased to $16.7 trillion, at which it now ostensibly sits. If this seems like a soul-crushingly large number, that's because it is: the total current-dollar market value of America's economic output in the second quarter was $16.6 trillion.
However, Treasury data from July shows that the U.S. budget deficit this year to date is $607 billion, down substantially from $974 billion in 2014 and on track to hit $759 billion by the end of the year. This compares against a total 2012 budget deficit of $1.1 trillion in 2012. The decline can mostly be attributed to the fiscal cliff tax deal, which increased government revenue, and the sequestration, which decreased outlays.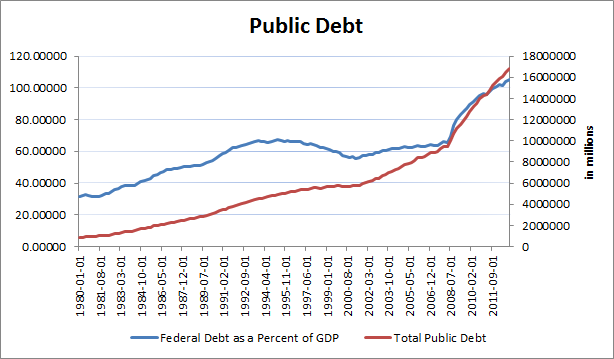 Don't Miss: A Computer Misfire Could Cost Goldman Sachs Millions.