One of the Most Important Financial Decisions of Your Life
No one really wants to talk about it. It's disconcerting, disheartening, and even scary, but at some time or another, every couple should have a conversation about what the other would do — emotionally, practically, and financially — if one of them were no longer here. According to the CDC's death reports, nearly 25% of deaths were in people between the ages of 25 and 64 during the most recently reported year.
And, while a portion of these people were as prepared as they could be for the loss of their partner, many people have found themselves in financial straits because they either neglected to purchase life insurance coverage, or they didn't purchase enough coverage. Purchasing life insurance is one of the most important, long-term financial decision a person makes in his or her life.
To help others learn from their experiences, 897 widows and widowers (within 10 years of a loss) recently participated in a study by New York Life. The New York Life study "focused on how the loss impacted daily life from both a financial and emotional perspective, narrowing in on financial security following the loss and how it may have changed as a result. Additionally, the survey explored the impact that life insurance has on their lives, both at the time of their loss and in the future."
Overall, 68% of widows reported that they experienced significant life changes after their loss, with financial concerns at the top of the list of changes. Around 40% of widows and 25% of widowers reported negative lifestyle changes after their partner's death, and some widows — 39% — reported that they had trouble even making ends meet.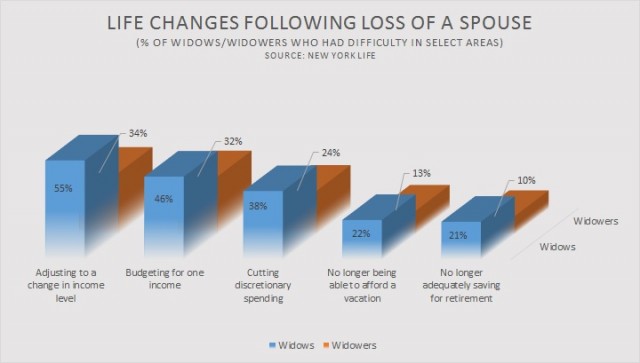 The above chart displays the areas in which widows and widowers expressed the most financial difficulty. Even those widows and widowers who said they had a plan still ended up experiencing financial difficulties when they didn't have enough life insurance to assist them.
Fifty-nine percent of widows reported that their life insurance was not enough to make them feel financially secure, and around half of widows (47%) said they wish they had more life insurance coverage to help cushion the financial impact of their loss.
Advice from those who have been through it
The New York Life study found that overall, women report a heavier financial impact after the loss of a spouse than do men. But, both men and women are impacted by such a dramatic (and traumatic) life change. Looking back, widows say that in hindsight, they wish they'd performed the following tasks related to their financial well-being:
"I wish we had some or more life insurance on my spouse." (47% of widows)
"I wish we had saved more." (42%)
"I wish we had detailed discussions about what might happen financially and otherwise if one of us passed." (30%)
"I wish we had a better financial plan in place." (28%)
"I wish we had organized all our important papers in one central location." (18%)
"These widows offer us insight into what life has been like for them since the loss: the financial strain for many has been very serious and for almost all the loss has been life changing. These insights should serve as a lesson for couples: there are actions that can be taken now to alleviate the future financial burden that comes with a loss," says Chris Blunt, co-president of the Insurance and Agency Group, in the New York Life study.
More from Personal Finance Cheat Sheet: